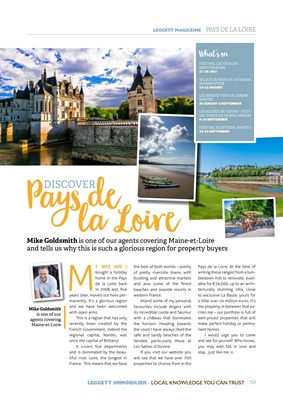 LEGGETT MAGAZINE PAYS DE LA LOIRE
M
Y WIFE AND I
bought a holiday
home in the Pays
de la Loire back
in 2008 and, five
years later, moved out here permanently.
It's a glorious region
and we have been welcomed
with open arms.
This is a region that has only
recently been created by the
French Government, indeed the
regional capital, Nantes, was
once the capital of Brittany!
It covers five departments
and is dominated by the beautiful river
Loire, the longest in
France. This means that we have
the best of both worlds - plenty
of pretty riverside towns with
bustling and attractive markets
and also some of the finest
beaches and seaside resorts in
western France.
Inland some of my personal
favourites include Angers with
its incredible castle and Saumur
with a château that dominates
the horizon. Heading towards
the coast I have always liked the
safe and sandy beaches of the
Vendée, particularly those at
Les Sables d'Olonne.
If you visit our website you
will see that we have over 700
properties to choose from in the
Pays de
la LoireMike Goldsmith is one of our agents covering Maine-et-Loire
and tells us why this is such a glorious region for property buyers
Pays de la Loire. At the time of
writing these ranged from a tumbledown
mill to renovate, available for
€16,000, up to an architecturally
stunning villa, close
to exclusive La Baule, yours for
a little over six million euros. It's
the property in between that excites me
- our portfolio is full of
well-priced properties that will
make perfect holiday or permanent homes.
I would urge you to come
and see for yourself. Who knows,
you may well fall in love and
stay….just like me.
59
LEGGETT IMMOBILIER - LOCAL KNOWLEDGE YOU CAN TRUST
What's on
FESTIVAL LES ESCALES,
SAINT NAZAIRE
27-29 JULY
RÉGATE DU BOIS DE LA CHAISE,
NOIRMOUTIER
10-12 AUGUST
LES RENDEZ-VOUS DE L'ERDRE,
NANTES
30 AUGUST-2 SEPTEMBER
LES ACCROCHE-CŒURS - FESTIVAL
D'ARTS DE LA RUE, ANGERS
8-10 SEPTEMBER
FESTIVAL SCOPITONE, NANTES
19-23 SEPTEMBER
DISCOVER
Mike Goldsmith
is one of our
agents covering
Maine-et-Loire