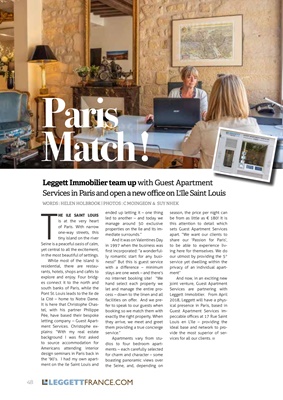 48 LEGGETTFRANCE.COM
Leggett Immobilier team up with Guest Apartment
Services in Paris and open a new office on L'Ile Saint Louis
T
HE ILE SAINT LOUIS
is at the very heart
of Paris. With narrow
one-way streets, this
tiny island on the river
Seine is a peaceful oasis of calm,
yet central to all the excitement,
in the most beautiful of settings.
While most of the island is
residential, there are restaurants,
hotels, shops and cafés to
explore and enjoy. Four bridges connect
it to the north and
south banks of Paris, while the
Pont St. Louis leads to the Ile de
la Cité - home to Notre Dame.
It is here that Christophe Chastel, with his partner Philippe
Pée, have based their bespoke
letting company - Guest Apartment Services.
Christophe explains: "With
my real estate
background I was first asked
to source accommodation for
Americans attending interior
design seminars in Paris back in
the '90's. I had my own apartment on the Ile Saint Louis and
WORDS : HELEN HOLBROOK | PHOTOS : C MOINGEON & SUY NHEK
ended up letting it - one thing
led to another - and today we
manage around 50 exclusive
properties on the Ile and its immediate surrounds."
And it was on Valentines Day
in 1997 when the business was
first incorporated: "a wonderfully romantic
start for any business!"
But this is guest service
with a difference - minimum
stays are one week - and there's
no internet booking site! "We
hand select each property we
let and manage the entire process
- down to the linen and all
facilities on offer. And we prefer
to speak to our guests when
booking so we match them with
exactly the right property. When
they arrive, we meet and greet
them providing a true concierge
service."
Apartments vary from studios to four
bedroom apartments -
each carefully selected
for charm and character - some
boasting panoramic views over
the Seine, and, depending on
season, the price per night can
be from as little as € 180! It is
this attention to detail which
sets Guest Apartment Services
apart. "We want our clients to
share our 'Passion for Paris',
to be able to experience living here
for themselves. We do
our utmost by providing the 5*
service yet dwelling within the
privacy of an individual apartment"
And now, in an exciting new
joint venture, Guest Apartment
Services are partnering with
Leggett Immobilier. From April
2018, Leggett will have a physical presence
in Paris, based in
Guest Apartment Services impeccable
offices at 17 Rue Saint
Louis en L'Ile - providing the
ideal base and network to provide the most superior of
services
for all our clients.
Paris
Match !