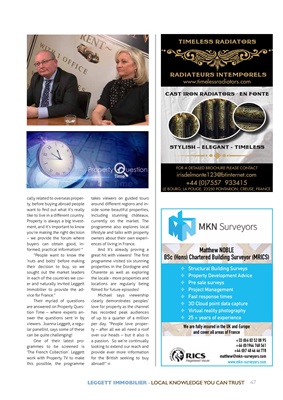 +33 (0)6 02 52 08 95
+44 (0)1944 768 561
+44 (0)7 48 46 46 778
Matthew NOBLE
BSc (Hons) Chartered Building Surveyor (MRICS)
' Structural Building Surveys
' Property Development Advice
' Pre sale surveys
' Project Management
' Fast response times
' 3D Cloud point data capture
' Virtual reality photography
' 25 + years of experience
We are fully insured in the UK and Europe
and cover all areas of France
cally related to overseas property,
before buying abroad people
want to find out what it's really
like to live in a different country.
Property is always a big investment, and
it's important to know
you're making the right decision
- we provide the forum where
buyers can obtain good, informed,
practical information! "
"People want to know the
'nuts and bolts' before making
their decision to buy, so we
sought out the market leaders
in each of the countries we cover and naturally
invited Leggett
Immobilier to provide the advice
for France."
Their myriad of questions
are answered on Property Question Time
- where experts answer
the questions sent in by
viewers. Joanna Leggett, a regular panellist, says some of
these
can be quite challenging!
One of their latest programmes
to be screened is
'The French Collection'. Leggett
work with Property TV to make
this possible, the programme takes viewers on guided tours
around different regions and inside some beautiful properties,
including stunning châteaux,
currently on the market. The
programme also explores local
lifestyle and talks with property
owners about their own experiences
of living in France.
And it's already proving a
great hit with viewers! The first
programme visited six stunning
properties in the Dordogne and
Charente as well as exploring
the locale - more properties and
locations are regularly being
filmed for future episodes!
Michael says viewership
clearly demonstrates peoples'
love for property as the channel
has recorded peak audiences
of up to a quarter of a million
per day. "People love property -
after all we all need a roof
over our heads - but it also is
a passion. So we're continually
looking to extend our reach and
provide ever more information
for the British seeking to buy
abroad!"
TIMELESS RADIATORS
RADIATEURS INTEMPORELS
irisdelmonte123@btinternet.comradiators.com">www.timelessradiators.com
CAST IRON RADIATORS � EN FONTE
STYLISH - ELEGANT - TIMELESS
FOR A DETAILED BROCHURE PLEASE CONTACT
irisdelmonte123@btinternet.com
+44 (0)7557 933415
LE BOURG, LA POUGE, 23250 PONTARION, CREUSE, FRANCE
47
LEGGETT IMMOBILIER - LOCAL KNOWLEDGE YOU CAN TRUST