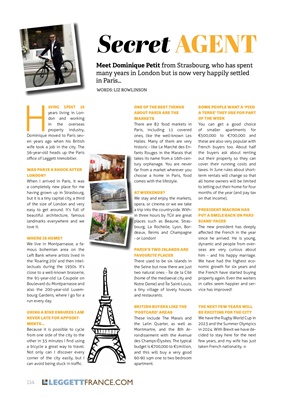 Meet Dominique Petit from Strasbourg, who has spent
many years in London but is now very happily settled
in Paris…
114 LEGGETTFRANCE.COM
WORDS: LIZ ROWLINSON
H
AVING SPENT 28
years living in London and working
in the overseas
property industry,
Dominique moved to Paris seven years
ago when his British
wife took a job in the city. The
56-year-old heads up the Paris
office of Leggett Immobilier.
WAS PARIS A SHOCK AFTER
LONDON?
When I arrived in Paris, it was
a completely new place for me
having grown up in Strasbourg,
but it is a tiny capital city, a third
of the size of London and very
easy to get around. It's full of
beautiful architecture, famous
landmarks everywhere and we
love it.
WHERE IS HOME?
We live in Montparnasse, a famous bohemian area
on the
Left Bank where artists lived in
the 'Roaring 20s' and then intellectuals during
the 1930s. It's
close to a well-known brasserie,
the 91-year-old La Coupole on
Boulevard du Montparnasse and
also the 200-year-old Luxembourg
Gardens, where I go for a
run every day.
USING A BIKE ENSURES I AM
NEVER LATE FOR APPOINTMENTS...
Because it is possible to cycle
from one side of the city to the
other in 35 minutes I find using
a bicycle a great way to travel.
Not only can I discover every
corner of the city easily, but I
can avoid being stuck in traffic.
ONE OF THE BEST THINGS
ABOUT PARIS ARE THE
MARKETS
There are 82 food markets in
Paris, including 11 covered
ones, like the well-known Les
Halles. Many of them are very
historic - like Le Marché des Enfants
Rouges in the Marais that
takes its name from a 16th-century orphanage.
You are never
far from a market wherever you
choose a home in Paris, food
comes with the lifestyle.
AT WEEKENDS?
We stay and enjoy the markets,
opera, or cinema or we we take
a trip into the countryside. Within three
hours by TGV are great
places such as Beaune, Strasbourg,
La Rochelle, Lyon, Bordeaux, Reims
and Champagne
- or London!
PARIS'S TWO ISLANDS ARE
FAVOURITE PLACES
There used to be six islands in
the Seine but now there are just
two natural ones - Île de la Cité
(home of the mediaeval city and
Notre Dame) and Île Saint-Louis,
a tiny village of lovely houses
and restaurants.
BRITISH BUYERS LIKE THE
'POSTCARD' AREAS
These include The Marais and
the Latin Quarter, as well as
Montmartre, and the 8th Arrondissement
with the Avenue
des Champs-Élysées. The typical
budget is €700,000 to €1million,
and this will buy a very good
60-90 sqm one to two bedroom
apartment.
Secret AGENT
SOME PEOPLE WANT A 'PIED
A TERRE' THEY USE FOR PART
OF THE WEEK
You can get a good choice
of smaller apartments for
€500,000 to €700,000 and
these are also very popular with
French buyers too. About half
the buyers ask about renting
out their property so they can
cover their running costs and
taxes. In June rules about shortterm rentals
will change so that
all home owners will be limited
to letting out their home for four
months of the year (and pay tax
on that income).
PRESIDENT MACRON HAS
PUT A SMILE BACK ON PARISIANS'
FACES
The new president has deeply
affected the French in the year
since he arrived. He is young,
dynamic and people from overseas are
very curious about
him - and his happy marriage.
We have had the highest economic growth
for six years and
the French have started buying
property again. Even the waiters
in cafes seem happier and service
has improved!
THE NEXT FEW YEARS WILL
BE EXCITING FOR THE CITY
We have the Rugby World Cup in
2023 and the Summer Olympics
in 2024. With Brexit we have decided to stay here
for the next
few years, and my wife has just
taken French nationality.