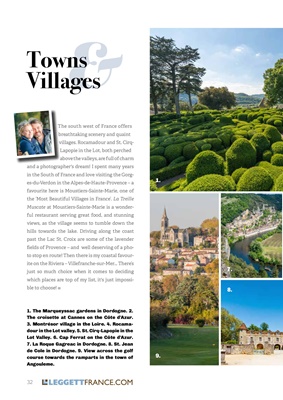 32 LEGGETTFRANCE.COM
&
32 LEGGETTFRANCE.COM
The south west of France offers
breathtaking scenery and quaint
villages. Rocamadour and St. CirqLapopie
in the Lot, both perched
above the valleys, are full of charm
and a photographer's dream! I spent many years
in the South of France and love visiting the Gorges-du-Verdon
in the Alpes-de-Haute-Provence - a
favourite here is Moustiers-Sainte-Marie, one of
the 'Most Beautiful Villages in France'. La Treille
Muscate at Moustiers-Sainte-Marie is a wonderful restaurant
serving great food, and stunning
views, as the village seems to tumble down the
hills towards the lake. Driving along the coast
past the Lac St. Croix are some of the lavender
fields of Provence - and well deserving of a photo
stop en route! Then there is my coastal favourite
on the Riviera - Villefranche-sur-Mer... There's
just so much choice when it comes to deciding
which places are top of my list, it's just impossible to
choose!
Towns
Villages
1. The Marqueyssac gardens in Dordogne. 2.
The croisette at Cannes on the Côte d'Azur.
3. Montrésor village in the Loire. 4. Rocamadour in
the Lot valley. 5. St. Cirq-Lapopie in the
Lot Valley. 6. Cap Ferrat on the Côte d'Azur.
7. La Roque Gagreac in Dordogne. 8. St. Jean
de Cole in Dordogne. 9. View across the golf
course towards the ramparts in the town of
Angouleme.
1.
7.
8.
9.