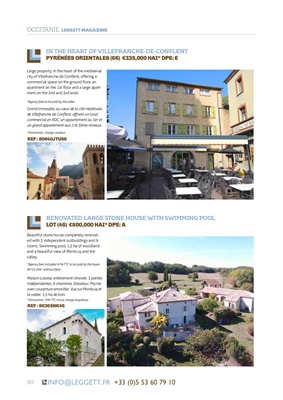 90
CARCASSONNE
Large property, in the heart of the mediaeval
city of Villefranche de Conflent, offering a
commercial space on the ground floor, an
apartment on the 1st floor and a large apartment on the 2nd and 3rd
level.
*Agency fees to be paid by the seller
Grand immeuble, au cœur de la cité médiévale
de Villefranche de Conflent, offrant: un local
commercial en RDC, un appartement au 1er et
un grand appartement aux 2 et 3ème niveaux.
*Honoraires charge vendeur
IN THE HEART OF VILLEFRANCHE-DE-CONFLENT
PYRÉNÉES ORIENTALES (66) €335,000 HAI* DPE: E
REF : 80940JTU66
Beautiful stone house completely renovated with 3 independent outbuildings and 9
rooms. Swimming pool, 1,5 ha of woodland
and a beautiful view of Montcuq and the
valley.
*Agency fees included: 6 % TTC to be paid by the buyer
(€755 000 without fees)
Maison Lotoise, entièrement rénovée. 3 parties
indépendantes. 9 chambres. Elévateur. Piscine
avec couverture amovible. Vue sur Montcuq et
la vallée. 1,5 ha de bois.
*Honoraires : 6% TTC inclus charge acquéreur
RENOVATED LARGE STONE HOUSE WITH SWIMMING POOL
LOT (46) €800,000 HAI* DPE: A
REF : 80365NK46
info@leggett.fr +33 (0)5 53 60 79 10
OCCITANIE LEGGETT MAGAZINE