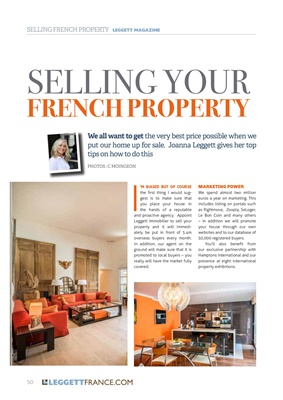 50 LEGGETTFRANCE.COM
We all want to get the very best price possible when we
put our home up for sale. Joanna Leggett gives her top
tips on how to do this
MARKETING POWER
We spend almost two million
euros a year on marketing. This
includes listing on portals such
as Rightmove, Zoopla, SeLoger,
Le Bon Coin and many others
- in addition we will promote
your house through our own
websites and to our database of
50,000 registered buyers.
You'll also benefit from
our exclusive partnership with
Hamptons International and our
presence at eight international
property exhibitions.
I
'M BIASED BUT OF COURSE
the first thing I would suggest
is to make sure that
you place your house in
the hands of a reputable
and proactive agency. Appoint
Leggett Immobilier to sell your
property and it will immediately be put in front
of 5.4m
overseas buyers every month.
In addition, our agent on the
ground will make sure that it is
promoted to local buyers - you
really will have the market fully
covered.
SELLING YOUR
FRENCH PROPERTY
SELLING FRENCH PROPERTY LEGGETT MAGAZINE
PHOTOS : C MOINGEON