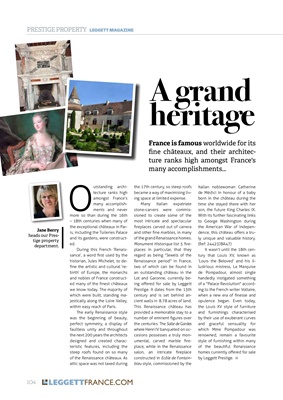 O
utstanding architecture
ranks high
amongst France's
many accomplishments and never
more so than during the 16th
- 18th centuries when many of
the exceptional châteaux in Paris, including
the Tuileries Palace
and its gardens, were constructed. During
this French 'Renaissance',
a word first used by the
historian, Jules Michelet, to define the
artistic and cultural 'rebirth'
of Europe, the monarchs
and nobles of France constructed many
of the finest châteaux
we know today. The majority of
which were built, standing majestically along the Loire
Valley,
within easy reach of Paris.
The early Renaissance style
was the beginning of beauty,
perfect symmetry, a display of
faultless unity and throughout
the next 200 years the architects
designed and created characteristic features,
including the
steep roofs found on so many
of the Renaissance châteaux. As
attic space was not taxed during A grand
heritage
France is famous worldwide for its
fine châteaux, and their architecture
ranks high amongst France's
many accomplishments...
PRESTIGE PROPERTY LEGGETT MAGAZINEthe 17th century, so steep roofs
became a way of maximising living space
at limited expense.
Many Italian expatriate
stone-carvers were commissioned to create
some of the
most intricate and spectacular
fireplaces carved out of carrera
and other fine marbles, in many
of the grand Renaissance homes.
Monument Historique list 5 fireplaces
in particular, that they
regard as being "Jewels of the
Renaissance period" in France,
two of which can be found in
an outstanding château in the
Lot and Garonne, currently being offered
for sale by Leggett
Prestige. It dates from the 13th
century and is set behind ancient walls in 8.78 acres
of land.
This Renaissance château has
provided a memorable stay to a
number of eminent figures over
the centuries. The Salle de Gardes
where Henri IV banqueted on occasions possesses
a truly monumental, carved
marble fireplace,
while in the Renaissance
salon, an intricate fireplace
constructed in Ecôle de Fontainbleu style,
commissioned by the
Italian noblewoman Catherine
de Médici in honour of a baby
born in the château during the
time she stayed there with her
son, the future King Charles IX.
With its further fascinating links
to George Washington during
the American War of Independence,
this château offers a truly unique and valuable history.
(Ref: 24423JBA47)
It wasn't until the 18th century that Louis XV,
known as
'Louis the Beloved' and his illustrious mistress,
La Marquise
de Pompadour, almost single
handedly instigated something
of a "Palace Revolution" according to the French
writer Voltaire,
when a new era of finesse and
opulence began. Even today,
the Louis XV style of furniture
and furnishings characterised
by their use of exuberant curves
and graceful sensuality for
which Mme Pompadour was
renowned, remain a favourite
style of furnishing within many
of the beautiful Renaissance
homes currently offered for sale
by Leggett Prestige.
104 LEGGETTFRANCE.COM
Jane Berry
heads our Prestige
property
department.