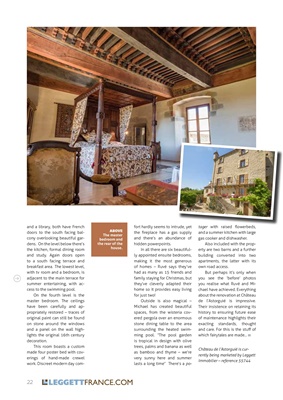 22 LEGGETTFRANCE.COM
22 LEGGETTFRANCE.COM
and a library, both have French
doors to the south facing balcony
overlooking beautiful gardens.
On the level below there's
the kitchen, formal dining room
and study. Again doors open
to a south facing terrace and
breakfast area. The lowest level,
with tv room and a bedroom, is
adjacent to the main terrace for
summer entertaining, with access
to the swimming pool.
On the fourth level is the
master bedroom. The ceilings
have been carefully and appropriately
restored - traces of
original paint can still be found
on stone around the windows
and a panel on the wall highlights the original 16th century
decoration.
This room boasts a custom
made four poster bed with coverings of
hand-made crewel
work. Discreet modern day comABOVE
The master
bedroom and
the rear of the
house.
fort hardly seems to intrude, yet
the fireplace has a gas supply
and there's an abundance of
hidden powerpoints.
In all there are six beautifully appointed ensuite bedrooms,
making it the most generous
of homes - Ruvé says they've
had as many as 15 friends and
family staying for Christmas, but
they've cleverly adapted their
home so it provides easy living
for just two!
Outside is also magical -
Michael has created beautiful
spaces, from the wisteria covered
pergola over an enormous
stone dining table to the area
surrounding the heated swimming pool.
"The pool garden
is tropical in design with olive
trees, palms and banana as well
as bamboo and thyme - we're
very sunny here and summer
lasts a long time" There's a potager
with raised flowerbeds,
and a summer kitchen with large
gas cooker and dishwasher.
Also included with the property are
two barns and a further
building converted into two
apartments, the latter with its
own road access.
But perhaps it's only when
you see the 'before' photos
you realise what Ruvé and Michael have
achieved. Everything
about the renovation at Château
de l'Astorguié is impressive.
Their insistence on retaining its
history to ensuring future ease
of maintenance highlights their
exacting standards, thought
and care. For this is the stuff of
which fairytales are made...
Château de l'Astorguié is currently
being marketed by Leggett
Immobilier - reference 55744