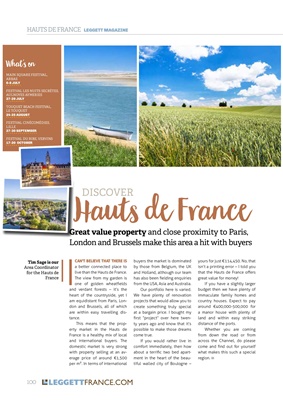 100 LEGGETTFRANCE.COM
I
CAN'T BELIEVE THAT THERE IS
a better connected place to
live than the Hauts de France.
The view from my garden is
one of golden wheatfields
and verdant forests - it's the
heart of the countryside, yet I
am equidistant from Paris, London and
Brussels, all of which
are within easy travelling distance.
This means that the property market
in the Hauts de
France is a healthy mix of local
and international buyers. The
domestic market is very strong
with property selling at an average
price of around €1,500
per m2. In terms of international
buyers the market is dominated
by those from Belgium, the UK
and Holland, although our team
has also been fielding enquiries
from the USA, Asia and Australia.
Our portfolio here is varied.
We have plenty of renovation
projects that would allow you to
create something truly special
at a bargain price. I bought my
first "project" over here twenty years
ago and know that it's
possible to make those dreams
come true.
If you would rather live in
comfort immediately, then how
about a terrific two bed apartment in the heart of
the beautiful walled
city of Boulogne -
What's on
MAIN SQUARE FESTIVAL,
ARRAS
6-8 JULY
FESTIVAL LES NUITS SECRÈTES,
AULNOYES AYMERIES
27-29 JULY
TOUQUET BEACH FESTIVAL,
LE TOUQUET
24-25 AUGUST
FESTIVAL CINÉCOMÉDIES,
LILLE
27-30 SEPTEMBER
FESTIVAL DU RIRE, VERVINS
17-20 OCTOBER
Hauts de France
DISCOVER
Tim Sage is our
Area Coordinator
for the Hauts de
France
yours for just €114,450. No, that
isn't a printing error - I told you
that the Hauts de France offers
great value for money!
If you have a slightly larger
budget then we have plenty of
immaculate family homes and
country houses. Expect to pay
around €400,000-500,000 for
a manor house with plenty of
land and within easy striking
distance of the ports.
Whether you are coming
from down the road or from
across the Channel, do please
come and find out for yourself
what makes this such a special
region.
Great value property and close proximity to Paris,
London and Brussels make this area a hit with buyers
HAUTS DE FRANCE LEGGETT MAGAZINE