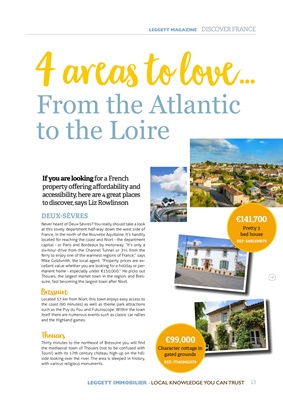 DEUX-SÈVRES
Never heard of Deux-Sèvres? You really should take a look
at this lovely department half-way down the west side of
France, in the north of the Nouvelle Aquitaine. It's handily
located for reaching the coast and Niort - the department
capital - or Paris and Bordeaux by motorway. "It's only a
six-hour drive from the Channel Tunnel or 3½ from the
ferry to enjoy one of the warmest regions of France," says
Mike Goldsmith, the local agent. "Property prices are excellent
value whether you are looking for a holiday or permanent
home - especially under €150,000." He picks out
Thouars, the largest market town in the region; and Bressuire,
fast becoming the largest town after Niort.
Bressuire
Located 57 km from Niort, this town enjoys easy access to
the coast (90 minutes) as well as theme park attractions
such as the Puy du Fou and Futuroscope. Within the town
itself there are numerous events such as classic car rallies
and the Highland games.
Thouars
Thirty minutes to the northeast of Bressuire you will find
the mediaeval town of Thouars (not to be confused with
Tours!) with its 17th century château high up on the hillside looking over
the river. The area is steeped in history,
with various religious monuments.
If you are looking for a French
property offering affordability and
accessibility, here are 4 great places
to discover, says Liz Rowlinson
13
€141,700
Pretty 3
bed house
REF: 64954MB79
€99,000
Character cottage in
gated grounds
REF: 77145MGO79
LEGGETT IMMOBILIER - LOCAL KNOWLEDGE YOU CAN TRUST
LEGGETT MAGAZINE DISCOVER FRANCE
4 areas to love...
From the Atlantic
to the Loire