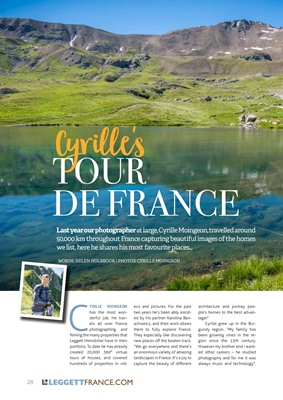 28 LEGGETTFRANCE.COM
28 C
YRILLE MOINGEON
has the most wonderful job.
He travels
all over France
photographing and
filming the many properties that
Leggett Immobilier have in their
portfolio. To date he has already
created 20,000 360° virtual
tours of houses, and covered
hundreds of properties in vidLast
year our photographer at large, Cyrille Moingeon, travelled around
50,000 km throughout France capturing beautiful images of the homes
we list, here he shares his most favourite places...
Cyrille's
eos and pictures. For the past
two years he's been ably assisted by
his partner Karolina Banachowicz,
and their work allows
them to fully explore France.
They especially like discovering
new places off the beaten track.
"We go everywhere and there's
an enormous variety of amazing
landscapes in France. It's a joy to
capture the beauty of different
architecture and portray people's
homes to the best advantage!"
Cyrille grew up in the Burgundy region.
"My family has
been growing vines in the region since
the 13th century.
However my brother and I wanted other
careers - he studied
photography and for me it was
always music and technology".
TOUR
DE FRANCE
WORDS: HELEN HOLBROOK | PHOTOS: CYRILLE MOINGEON