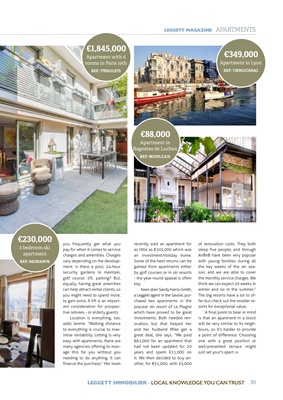 LEGGETT MAGAZINE APARTMENTS
393939
of renovation costs. They both
sleep five people, and through
AirBnB have been very popular
with young families during all
the key weeks of the ski season, and we
are able to cover
the monthly service charges. We
think we can expect 20 weeks in
winter and six in the summer."
The big resorts have a lot to offer
but check out the smaller resorts for
exceptional value.
A final point to bear in mind
is that an apartment in a block
will be very similar to its neighbours,
so it's harder to provide
a point of difference. Choosing
one with a great position or
well-presented terrace might
just set your's apart.
you frequently get what you
pay for when it comes to service
charges and amenities. Charges
vary depending on the development: is there
a pool, 24-hour
security, gardens to maintain,
golf course, lift, parking? But,
equally, having great amenities
can help attract rental clients, so
you might need to spend more,
to gain extra. A lift is an important consideration
for prospective
retirees - or elderly guests.
Location is everything, too,
adds Jennie. "Walking distance
to everything is crucial to maximise rentability.
Letting is very
easy with apartments, there are
many agencies offering to manage
this for you without you
needing to do anything. It can
finance the purchase." Her team
recently sold an apartment for
as little as €105,000 which was
an investment/holiday home.
Some of the best returns can be
gained from apartments either
by golf courses or in ski resorts
- the year-round appeal is often
key.
Keen skier Sandy Harris-Smith,
a Leggett agent in the Savoie, purchased
two apartments in the
popular ski resort of La Plagne
which have proved to be great
investments. Both needed renovation,
but that helped her
and her husband Mike get a
great deal, she says. "We paid
€61,000 for an apartment that
had not been updated for 20
years and spent £11,000 on
it. We then decided to buy another,
for €51,000, with £5,000
LEGGETT IMMOBILIER - LOCAL KNOWLEDGE YOU CAN TRUST
€349,000
Apartment in Lyon
REF: 72695JCI69A3
€230,000
2 bedroom ski
apartment
REF: 84130AM74
€88,000
Apartment in
Bagnères de Luchon
REF: 86310LCA31
€1,845,000
Apartment with 6
rooms in Paris 19th
REF: 77810JLE75