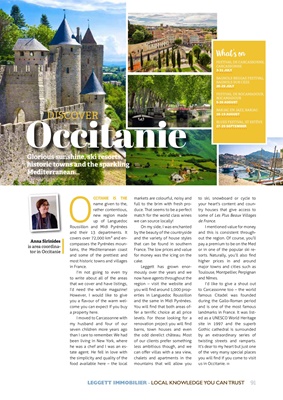 91
LEGGETT IMMOBILIER - LOCAL KNOWLEDGE YOU CAN TRUST
markets are colourful, noisy and
full to the brim with fresh produce.
That seems to be a perfect
match for the world class wines
we can source locally!
On my side, I was enchanted
by the beauty of the countryside
and the variety of house styles
that can be found in southern
France. The low prices and value
for money was the icing on the
cake.
Leggett has grown enormously over
the years and we
now have agents throughout the
region - visit the website and
you will find around 1,000 properties in Languedoc Roussillon
and the same in Midi Pyrénées.
You will find that both areas offer
a terrific choice at all price
levels. For those looking for a
renovation project you will find
barns, town houses and even
the odd derelict château. Most
of our clients prefer something
less ambitious though, and we
can offer villas with a sea view,
chalets and apartments in the
mountains that will allow you
O
CCITANIE IS THE
name given to the,
rather contentious,
new region made
up of Languedoc
Roussillon and Midi Pyrénées
and their 13 departments. It
covers over 72,000 km2 and encompasses
the Pyrénées mountains, the
Mediterranean coast
and some of the prettiest and
most historic towns and villages
in France.
I'm not going to even try
to write about all of the areas
that we cover and have listings,
I'd need the whole magazine!
However, I would like to give
you a flavour of the warm welcome you can expect if you buy
a property here.
I moved to Carcassonne with
my husband and four of our
seven children more years ago
than I care to remember. We had
been living in New York, where
he was a chef and I was an estate agent.
He fell in love with
the simplicity and quality of the
food available here - the local
Anna Sirinides
is area coordinator
in Occitanie
to ski, snowboard or cycle to
your heart's content and country houses that give
access to
some of Les Plus Beaux Villages
de France.
I mentioned value for money
and this is consistent throughout the
region. Of course, you'll
pay a premium to be on the Med
or in one of the popular ski resorts. Naturally,
you'll also find
higher prices in and around
major towns and cities such as
Toulouse, Montpellier, Perpignan
and NÎmes.
I'd like to give a shout out
to Carcassonne too - the world
famous Citadel was founded
during the Gallo-Roman period
and is one of the most famous
landmarks in France. It was listed as
a UNESCO World Heritage
site in 1997 and the superb
Gothic cathedral is surrounded
by an extraordinary series of
twisting streets and ramparts.
It's dear to my heart but just one
of the very many special places
you will find if you come to visit
us in Occitanie.
DISCOVER
Glorious sunshine, ski resorts,
historic towns and the sparkling
Mediterranean...
Occitanie FESTIVAL DE CARCASSONNE,
CARCASSONNE
3-31 JULY
BAGNOLS REGGAE FESTIVAL,
BAGNOLS SUR CEZE
26-28 JULY
FESTIVAL DE ROCAMADOUR,
ROCAMADOUR
5-26 AUGUST
BARJAC EN JAZZ, BARJAC
16-19 AUGUST
BLUES FESTIVAL, ST ESTÉVE
27-29 SEPTEMBER
What's on