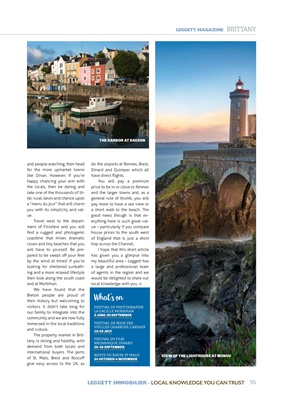 and people watching, then head
for the more upmarket towns
like Dinan. However, if you're
happy chancing your arm with
the locals, then be daring and
take one of the thousands of little,
rural, lanes and chance upon
a "menu du jour" that will charm
you with its simplicity and value.
Travel west to the department of
Finistère and you will
find a rugged and photogenic
coastline that mixes dramatic
coves and tiny beaches that you
will have to yourself. Be prepared
to be swept off your feet
by the wind at times! If you're
looking for sheltered sunbathing and a more
relaxed lifestyle
then look along the south coast
and at Morbihan.
We have found that the
Breton people are proud of
their history but welcoming to
visitors. It didn't take long for
our family to integrate into the
community and we are now fully
immersed in the local traditions
and culture.
The property market in Brittany is strong
and healthy, with
demand from both locals and
international buyers. The ports
of St. Malo, Brest and Roscoff
give easy access to the UK, as
do the airports at Rennes, Brest,
Dinard and Quimper which all
have direct flights.
You will pay a premium
price to be in or close to Rennes
and the larger towns and, as a
general rule of thumb, you will
pay more to have a sea view or
a short walk to the beach. The
good news though is that everything here
is such great value -
particularly if you compare
house prices to the south west
of England that is just a short
hop across the Channel.
I hope that this short article
has given you a glimpse into
my beautiful area - Leggett has
a large and professional team
of agents in the region and we
would be delighted to share our
local knowledge with you.
5555
LEGGETT MAGAZINE BRITTANY
LEGGETT IMMOBILIER - LOCAL KNOWLEDGE YOU CAN TRUST
THE HARBOR AT SAUZON
VIEW OF THE LIGHTHOUSE AT MINOU
What's on
FESTIVAL DE PHOTOGRAPHIE
LA GACILLY, MORBIHAN
2 JUNE-30 SEPTEMBER
FESTIVAL DE ROCK DES
VIEILLES CHARRUES, CARHAIX
19-22 JULY
FESTIVAL DU FILM
BRITANNIQUE, DINARD
26-30 SEPTEMBER
ROUTE DU RHUM, ST MALO
24 OCTOBER-4 NOVEMBER