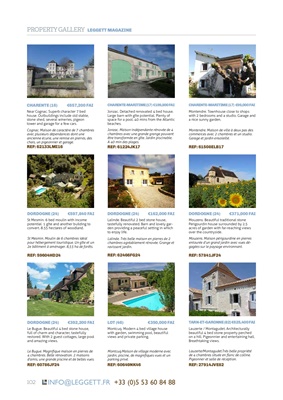 102
PROPERTY GALLERY LEGGETT MAGAZINE
CHARENTE (16) €657,200 FAI
Near Cognac. Superb character 7 bed
house. Outbuildings include old stable,
stone shed, several wineries, pigeon
tower and garage for a few cars.
Cognac. Maison de caractère de 7 chambres
avec plusieurs dépendances dont une
ancienne écurie, une remise en pierres, des
chais, un pigeonnier et garage.
REF: 62133LMI16
CHARENTE-MARITIME (17) €199,800 FAI
Jonzac. Detached renovated 4 bed house.
Large barn with gîte potential. Plenty of
space for a pool. 40 mins from the Atlantic
beaches.
Jonzac. Maison indépendante rénovée de 4
chambres avec une grande grange pouvant
être transformée en gîte. Jardin piscinable.
A 40 min des plages.
REF: 61224JK17
CHARENTE-MARITIME (17) €99,000 FAI
Montendre. Townhouse close to shops
with 2 bedrooms and a studio. Garage and
a nice sunny garden.
Montendre. Maison de ville à deux pas des
commerces avec 2 chambres et un studio.
Garage et jardin ensoleillé.
REF: 61508ELB17
DORDOGNE (24) €597,840 FAI
St Mesmin. 6 bed moulin with income
potential. 1 gîte and another building to
convert. 8.55 hectares of woodland.
St Mesmin. Moulin de 6 chambres idéal
pour hébergement touristique. Un gîte et un
2e bâtiment à aménager. 8,55 ha de forêts.
REF: 59604HD24
DORDOGNE (24) €162,000 FAI
Lalinde. Beautiful 2 bed stone house,
tastefully renovated. Barn and lovely garden providing
a peaceful setting in which
to enjoy life.
Lalinde. Très belle maison en pierres de 2
chambres agréablement rénovée. Grange et
ravissant jardin.
REF: 62466FG24
DORDOGNE (24) €371,000 FAI
Mouzens. Beautiful traditional stone
Perigourdin house surrounded by 2.5
acres of garden with far-reaching views
over the countryside.
Mouzens. Maison périgourdine en pierres
entourée d'un grand jardin avec vues dégagées sur le paysage environnant.
REF: 57841JF24
DORDOGNE (24) €392,200 FAI
Le Bugue. Beautiful 4 bed stone house,
full of charm and character, tastefully
restored. With 2 guest cottages, large pool
and amazing views.
Le Bugue. Magnifique maison en pierres de
4 chambres. Belle rénovation. 2 maisons
d'amis, une grande piscine et de belles vues.
REF: 60786JF24
LOT (46) €350,000 FAI
Montcuq. Modern 4 bed village house
with garden, swimming pool, beautiful
views and private parking.
montcuq.maison de village moderne avec
jardin, piscine, de magnifiques vues et un
parking privé.
REF: 60649NK46
TARN-ET-GARONNE (82) €625,400 FAI
Lauzerte / Montagudet. Architecturally
beautiful 4 bed stone property perched
on a hill. Pigeonnier and entertaining hall.
Breathtaking views.
Lauzerte/montagudet.trinfo@leggett.frpropriété
de 4 chambres située en flanc de colline.
Pigeonner et salle de réception.
REF: 27914JVE82
INFO@leggett.fr +33 (0)5 53 60 84 88