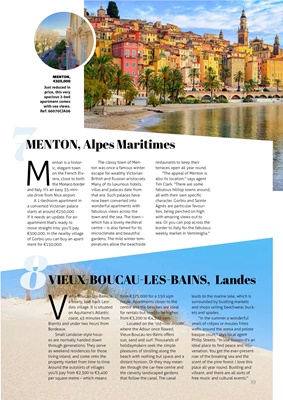 7
8
39
VIEUX-BOUCAU-LES-BAINS, Landes
V
ieux-Boucau-les-Bains is
a lovely, laid-back Landais village.
It is situated
on Aquitaine's Atlantic
coast, 45 minutes from
Biarritz and under two hours from
Bordeaux.
Small Landaise-style houses are
normally handed down
through generations. They serve
as weekend residences for those
living inland, and come onto the
property market from time to time.
Around the outskirts of villages
you'll pay from €2,500 to €3,400
per square metre - which means
from €375,000 for a 150 sqm
house. Apartments closer to the
centre and the beaches are ideal
for rentals but tend to be higher:
from €3,200 to €4,300 sqm.
Located on the 'old river mouth'
where the Adour once flowed,
Vieux-Boucau-les-Bains offers
sun, sand and surf. Thousands of
holidaymakers seek the simple
pleasures of strolling along the
beach with nothing but space and a
distant horizon. Or they may meander through
the car-free centre and
the cleverly landscaped gardens
that follow the canal. The canal
leads to the marine lake, which is
surrounded by bustling markets
and shops selling beachwear, buckets and spades.
"In the summer a wonderful
smell of crêpes or moules frites
wafts around the arena and pelote
basque court," says local agent
Philip Streets. "In low season it's an
ideal place to find peace and rejuvenation.
You get the ever-present
roar of the breaking sea and the
scent of the pine forest. I love this
place all year round. Bustling and
vibrant, and there are all sorts of
free music and cultural events."
M
enton is a historic, elegant
town
on the French Riviera,
close to both
the Monaco border
and Italy. It's an easy 35-minute drive
from Nice airport.
A 1-bedroom apartment in
a converted Victorian palace
starts at around €250,000
if it needs an update. For an
apartment that's ready to
move straight into, you'll pay
€300,000. In the nearby village
of Gorbio you can buy an apartment for
€150,000.
MENTON, Alpes Maritimes
The classy town of Menton was once
a famous winter
escape for wealthy Victorian
British and Russian aristocrats.
Many of its luxurious hotels,
villas and palaces date from
that era. Such palaces have
now been converted into
wonderful apartments with
fabulous views across the
town and the sea. The town -
which has a lovely medieval
centre - is also famed for its
microclimate and beautiful
gardens. The mild winter temperatures
allow the beachside
MENTON,
€325,000
Just reduced in
price, this very
spacious 2-bed
apartment comes
w i t h s e a v i e w s .
Ref: 60070CJA06
restaurants to keep their
terraces open all year round.
"The appeal of Menton is
also its location," says agent
Tim Clark. "There are some
fabulous hilltop towns around,
all with their own specific
character. Gorbio and Sainte
Agnès are particular favourites, being perched
on high
with amazing views out to
sea. Or you can pop across the
border to Italy for the fabulous
weekly market in Ventimiglia."