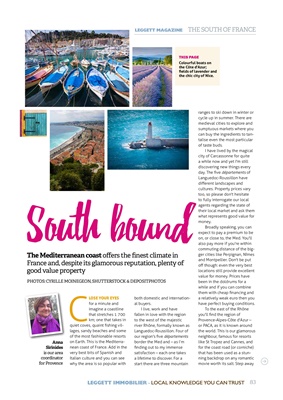 83
C
LOSE YOUR EYES
for a minute and
imagine a coastline
that stretches 1 700
km; one that takes in
quiet coves, quaint fishing villages,
sandy beaches and some
of the most fashionable resorts
on Earth. This is the Mediterranean coast
of France. Add in the
very best bits of Spanish and
Italian culture and you can see
why the area is so popular with
both domestic and international buyers.
I live, work and have
fallen in love with the region
to the west of the majestic
river Rhône, formally known as
Languedoc-Roussillon. Four of
our region's five départements
border the Med and - as I'm
finding out to my immense
satisfaction - each one takes
a lifetime to discover. For a
start there are three mountain
South boundThe Mediterranean coast offers the finest climate in
France and, despite its glamorous reputation, plenty of
good value property
ranges to ski down in winter or
cycle up in summer. There are
medieval cities to explore and
sumptuous markets where you
can buy the ingredients to tantalise even
the most particular
of taste buds.
I have lived by the magical
city of Carcassonne for quite
a while now and yet I'm still
discovering new things every
day. The five départements of
Languedoc-Roussillon have
different landscapes and
cultures. Property prices vary
too, so please don't hesitate
to fully interrogate our local
agents regarding the state of
their local market and ask them
what represents good value for
money.
Broadly speaking, you can
expect to pay a premium to be
on, or close to, the Med. You'll
also pay more if you're within
commuting distance of the bigger
cities like Perpignan, Nîmes
and Montpellier. Don't be put
off though: even the very best
locations still provide excellent
value for money. Prices have
been in the doldrums for a
while and if you can combine
them with cheap financing and
a relatively weak euro then you
have perfect buying conditions.
To the east of the Rhône
you'll find the region of
Provence-Alpes-Côte d'Azur -
or PACA, as it is known around
the world. This is our glamorous
neighbour, famous for resorts
like St Tropez and Cannes, and
for the coast road (or corniche)
that has been used as a stunning backdrop
on any romantic
movie worth its salt. Step away
LEGGETT IMMOBILIER - LOCAL KNOWLEDGE YOU CAN TRUST
THIS PAGE
Colourful boats on
the Côte d'Azur;
fields of lavender and
the chic city of Nice.
Anna
Sirinides
is our area
coordinator
for Provence
LEGGETT MAGAZINE THE SOUTH OF FRANCE
PHOTOS: CYRILLE MOINEGEON, SHUTTERSTOCK & DEPOSITPHOTOS