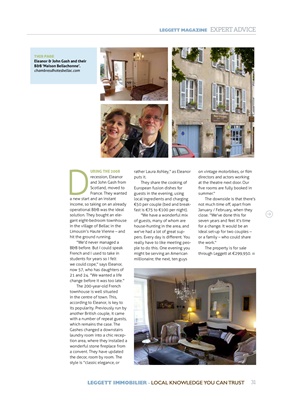 LEGGETT IMMOBILIER - LOCAL KNOWLEDGE YOU CAN TRUST 31
D
URING THE 2008
recession, Eleanor
and John Gash from
Scotland, moved to
France. They wanted
a new start and an instant
income, so taking on an already
operational B&B was the ideal
solution. They bought an elegant eight-bedroom
townhouse
in the village of Bellac in the
Limousin's Haute Vienne - and
hit the ground running.
"We'd never managed a
B&B before. But I could speak
French and I used to take in
students for years so I felt
we could cope," says Eleanor,
now 57, who has daughters of
21 and 24. "We wanted a life
change before it was too late."
The 200-year-old French
townhouse is well situated
in the centre of town. This,
according to Eleanor, is key to
its popularity. Previously run by
another British couple, it came
with a number of repeat guests,
which remains the case. The
Gashes changed a downstairs
laundry room into a chic reception area,
where they installed a
wonderful stone fireplace from
a convent. They have updated
the decor, room by room. The
style is "classic elegance, or
LEGGETT MAGAZINE EXPERT ADVICE
on vintage motorbikes, or film
directors and actors working
at the theatre next door. Our
five rooms are fully booked in
summer."
The downside is that there's
not much time off, apart from
January / February, when they
close. "We've done this for
seven years and feel it's time
for a change. It would be an
ideal set-up for two couples -
or a family - who could share
the work."
The property is for sale
through Leggett at €299,950.
rather Laura Ashley," as Eleanor
puts it.
They share the cooking of
European fusion dishes for
guests in the evening, using
local ingredients and charging
€50 per couple (bed and breakfast
is €75 to €100 per night).
"We have a wonderful mix
of guests, many of whom are
house-hunting in the area, and
we've had a lot of great suppers.
Every day is different. You
really have to like meeting people to do this. One evening
you
might be serving an American
millionaire; the next, ten guys
THIS PAGE
Eleanor & John Gash and their
B&B 'Maison Bellachonne'.