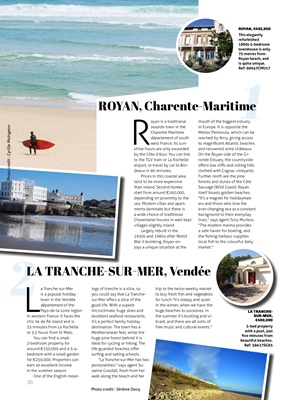 mouth of the biggest estuary
in Europe. It is opposite the
Médoc Peninsula, which can be
reached by ferry, giving access
to magnificent Atlantic beaches
and renowned wine châteaux.
On the Royan side of the Gironde
Estuary, the countryside
offers low cliffs and rolling hills
clothed with Cognac vineyards.
Further north are the pine
forests and dunes of the Côte
Sauvage (Wild Coast). Royan
itself boasts golden beaches.
"It's a magnet for holidaymakers
and those who love the
ever-changing sea as a constant
background to their everyday
lives," says agent Tony Murless.
"The modern marina provides
a safe haven for boating, and
the fishing harbour supplies
local fish to the colourful daily
market."
Photo credit : Cyrille Moingeon
Photo credit : Jérôme Decq
2
36
L
a Tranche-sur-Mer
is a popular holiday
town in the Vendée
département of the
Pays-de-la-Loire region
in western France. It faces the
chic Ile de Ré island and is
55 minutes from La Rochelle
or 3.5 hours from St Malo.
You can find a small
2-bedroom property for
around €150,000 and a 3-4-
bedroom with a small garden
for €250,000.  Properties can
earn an excellent income
in the summer season.
One of the English meanLA TRANCHE-SUR-MER,
Vendée
ings of tranche is a slice, so
you could say that La Tranchesur-Mer offers
a slice of the
good life. With a superb
microclimate, huge skies and
excellent seafood restaurants,
it's a perfect family holiday
destination. The town has a
Mediterranean feel, while the
huge pine forest behind it is
ideal for cycling or hiking. The
life-guarded beaches offer
surfing and sailing schools.
"La Tranche-sur-Mer has two
personalities," says agent Suzanne
Goodall, fresh from her
walk along the beach and her
trip to the twice-weekly market
to buy fresh fish and vegetables
for lunch. "It's sleepy and quiet
in the winter, when we have the
huge beaches to ourselves. In
the summer it's bustling and vibrant,
and there are all sorts of
free music and cultural events."
ROYAN, €492,900
This elegantly
refurbished
1880s 5-bedroom
townhouse is only
75 metres from
Royan beach, and
is quite unique.
Ref: 60947CMU17
LA TRANCHESUR-MER,
€490,000
3-bed property
with a pool, just
five minutes from
beautiful beaches.
Ref: 56627SG85
1ROYAN, Charente-Maritime
R
oyan is a traditional
seaside town in the
Charente Maritime
département of south
west France. Its sunshine hours
are only exceeded
by the Côte d'Azur. You can link
to the TGV train or La Rochelle
airport, or travel by car to Bordeaux in 90 minutes.
Prices in this coastal area
tend to be more expensive
than inland. Second homes
start from around €160,000,
depending on proximity to the
sea. Modern villas and apartments dominate but there
is
a wide choice of traditional
Charentaise houses in well-kept
villages slightly inland.
Largely rebuilt in the
1950s and 1960s after World
War II bombing, Royan enjoys
a unique situation at the