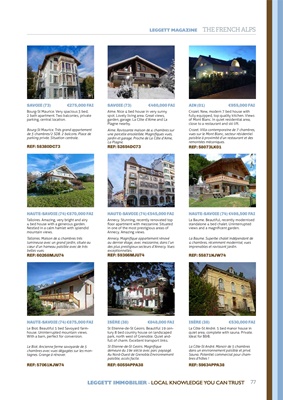 77
LEGGETT IMMOBILIER - LOCAL KNOWLEDGE YOU CAN TRUST 77
LEGGETT IMMOBILIER - LOCAL KNOWLEDGE YOU CAN TRUST 77
LEGGETT MAGAZINE THE FRENCH ALPS
LEGGETT IMMOBILIER - LOCAL KNOWLEDGE YOU CAN TRUST
SAVOIE (73) €275,000 FAI
Bourg-St Maurice. Very spacious 3 bed,
2 bath apartment. Two balconies, private
parking, central location.
Bourg-St Maurice. Très grand appartement
de 3 chambres/2 SDB. 2 balcons. Place de
parking privée. Situation centrale.
REF: 58380DC73
SAVOIE (73) €460,000 FAI
Aime. Nice 4 bed house in very sunny
spot. Lovely living area. Great views,
garden, garage. La Côte d'Aime and La
Plagne nearby.
Aime. Ravissante maison de 4 chambres sur
une parcelle ensoleillée. Magnifiques vues,
jardin et garage. Proche de La Côte d'Aime,
La Plagne.
REF: 52654DC73
AIN (01) €955,000 FAI
Crozet. New, modern 7 bed house with
fully equipped, top quality kitchen. Views
of Mont Blanc. In quiet residential area,
close to a restaurant and ski lift.
Crozet. Villa contemporaine de 7 chambres,
vues sur le Mont Blanc, secteur résidentiel
paisible à proximité d'un restaurant et des
remontées mécaniques.
REF: 58073LK01
HAUTE-SAVOIE (74) €870,000 FAI
Talloires. Amazing, very bright and airy
4 bed house with a generous garden.
Nestled in a calm hamlet with splendid
mountain views.
Talloires. Maison de 4 chambres très
lumineuse avec un grand jardin, située au
cœur d'un hameau paisible avec de très
belles vues.
REF: 60268MJU74
HAUTE-SAVOIE (74) €545,000 FAI
Annecy. Stunning, recently renovated top
floor apartment with mezzanine. Situated
in one of the most prestigious areas of
Annecy. Amazing views.
Annecy. Magnifique appartement rénové
au dernier étage, avec mezzanine, dans l'un
des plus prestigieux secteurs d'Annecy. Vues
exceptionnelles.
REF: 59366MJU74
HAUTE-SAVOIE (74) €498,500 FAI
La Baume. Beautiful, recently modernised
standalone 4 bed chalet. Uninterrupted
views and a magnificent garden.
La Baume. Superbe chalet indépendant de
4 chambres, récemment modernisé, vues
imprenables et ravissant jardin.
REF: 55871NJW74
HAUTE-SAVOIE (74) €875,000 FAI
Le Biot. Beautiful 5 bed Savoyard farmhouse.
Uninterrupted mountain views.
With a barn, perfect for conversion.
Le Biot. Ancienne ferme savoyarde de 5
chambres avec vues dégagées sur les montagnes.
Grange à rénover.
REF: 57061NJW74
ISÈRE (38) €848,000 FAI
St Etienne-de-St Geoirs. Beautiful 19 century 8 bed country
house on landscaped
park, north west of Grenoble. Quiet andfull of
charm. Excellent transport links.
St Etienne-de-St Geoirs. Magnifique
demeure du 19e siècle avec parc paysagé.
Au Nord-Ouest de grenoble.environnement
paisible, accès facile.
REF: 60554PPA38
ISÈRE (38) €530,000 FAI
La Côte-St André. 5 bed manor house in
quiet area, complete with sauna. Private.
Ideal for B&B.
La Côte-St André. Manoir de 5 chambres
dans un environnement paisible et privé.
Sauna. Potentiel commercial pour chambres d'hôtes !
REF: 59634PPA38