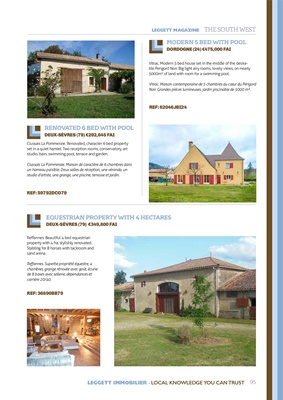 LEGGETT MAGAZINE THE SOUTH WEST
95
LEGGETT IMMOBILIER - LOCAL KNOWLEDGE YOU CAN TRUST
Clussais La Pommeraie. Renovated, character 6 bed property
set in a quiet hamlet. Two reception rooms, conservatory, art
studio, barn, swimming pool, terrace and garden.
Clussais La Pommeraie. Maison de caractère de 6 chambres dans
un hameau paisible. Deux salles de réception, une véranda, un
studio d'artiste, une grange, une piscine, terrasse et jardin.
RENOVATED 6 BED WITH POOL
DEUX-SÈVRES (79) €292,645 FAI
REF: 59792DCO79
MODERN 5 BED WITH POOL
DORDOGNE (24) €475,000 FAI
Vitrac. Modern 5 bed house set in the middle of the desirable Perigord
Noir. Big light airy rooms, lovely views, on nearly
5000m² of land with room for a swimming pool.
Vitrac. Maison contemporaine de 5 chambres au cœur du Périgord
Noir. Grandes pièces lumineuses, jardin piscinable de 5000 m².
REF: 62046JBI24
Reffannes. Beautiful 4 bed equestrian
property with 4 ha, stylishly renovated.
Stabling for 8 horses with tackroom and
sand arena.
Reffannes. Superbe propriété équestre, 4
chambres, grange rénovée avec goût, écurie
de 8 boxes avec sellerie, dépendances et
carrière 20/40.
EQUESTRIAN PROPERTY WITH 4 HECTARES
DEUX-SÈVRES (79) €349,800 FAI
REF: 36890BB79