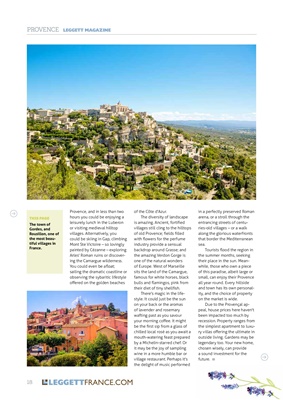 PROVENCE LEGGETT MAGAZINE
Provence, and in less than two
hours you could be enjoying a
leisurely lunch in the Luberon
or visiting medieval hilltop
villages. Alternatively, you
could be skiing in Gap, climbing
Mont Ste Victoire - so lovingly
painted by Cézanne - exploring
Arles' Roman ruins or discovering the Camargue
wilderness.
You could even be afloat;
sailing the dramatic coastline or
observing the sybaritic lifestyle
offered on the golden beaches
of the Côte d'Azur.
The diversity of landscape
is amazing. Ancient, fortified
villages still cling to the hilltops
of old Provence; fields filled
with flowers for the perfume
industry provide a sensual
backdrop around Grasse; and
the amazing Verdon Gorge is
one of the natural wonders
of Europe. West of Marseille
sits the land of the Camargue,
famous for white horses, black
bulls and flamingos, pink from
their diet of tiny shellfish.
There's magic in the lifestyle.
It could just be the sun
on your back or the aromas
of lavender and rosemary
wafting past as you savour
your morning coffee. It might
be the first sip from a glass of
chilled local rosé as you await a
mouth-watering feast prepared
by a Michelin-starred chef. Or
it may be the joy of sampling
wine in a more humble bar or
village restaurant. Perhaps it's
the delight of music performed
in a perfectly preserved Roman
arena, or a stroll through the
entrancing streets of centuries-old villages
- or a walk
along the glorious waterfronts
that border the Mediterranean
sea.
Tourists flood the region in
the summer months, seeking
their place in the sun. Meanwhile,
those who own a piece
of this paradise, albeit large or
small, can enjoy their Provence
all year round. Every hillside
and town has its own personality,
and the choice of property
on the market is wide.
Due to the Provençal appeal, house prices
here haven't
been impacted too much by
recession. Property ranges from
the simplest apartment to luxury villas offering
the ultimate in
outside living. Gardens may be
legendary too. Your new home,
chosen wisely, can provide
a sound investment for the
future.
THIS PAGE
The town of
Gordes, and
Rousillon, one of
the most beautiful villages
in
France.