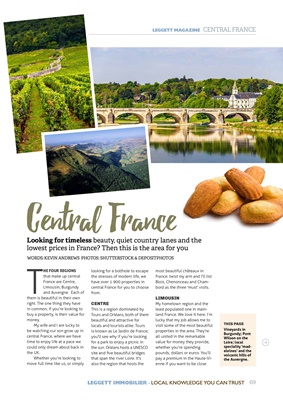 69
T
HE FOUR REGIONS
that make up central
France are Centre,
Limousin, Burgundy
and Auvergne. Each of
them is beautiful in their own
right. The one thing they have
in common, if you're looking to
buy a property, is their value for
money.
My wife and I are lucky to
be watching our son grow up in
central France, where we have
time to enjoy life at a pace we
could only dream about back in
the UK.
Whether you're looking to
move full time like us, or simply
looking for a bolthole to escape
the stresses of modern life, we
have over 1 900 properties in
central France for you to choose
from.
CENTRE
This is a region dominated by
Tours and Orléans, both of them
beautiful and attractive for
locals and tourists alike. Tours
is known as Le Jardin de France;
you'll see why if you're looking
for a park to enjoy a picnic in
the sun. Orléans hosts a UNESCO
site and five beautiful bridges
that span the river Loire. It's
also the region that hosts the
Looking for timeless beauty, quiet country lanes and the
lowest prices in France? Then this is the area for you
most beautiful châteaux in
France: twist my arm and I'll list
Blois, Chenonceau and Chambord
as the three 'must' visits.
LIMOUSIN
My hometown region and the
least populated one in mainland France.
We love it here. I'm
lucky that my job allows me to
visit some of the most beautiful
properties in the area. They're
all united in the remarkable
value for money they provide,
whether you're spending
pounds, dollars or euros. You'll
pay a premium in the Haute-Vienne if you
want to be close
LEGGETT MAGAZINE CENTRAL FRANCE
Central France
THIS PAGE
Vineyards in
Burgundy; Pont
Wilson on the
Loire; local
speciality 'madeleines' and the
volcanic hills of
the Auvergne.
WORDS: KEVIN ANDREWS PHOTOS: SHUTTERSTOCK & DEPOSITPHOTOS
LEGGETT IMMOBILIER - LOCAL KNOWLEDGE YOU CAN TRUST