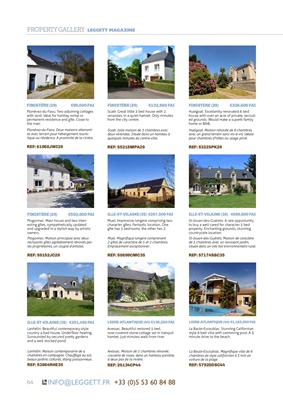 64
PROPERTY GALLERY LEGGETT MAGAZINE
FINISTÈRE (29) €99,000 FAI
Plonévez-du-Faou. Two adjoining cottages
with land. Ideal for holiday rental or
permanent residence and gîte. Close to
the river.
Plonévez-du-Faou. Deux maisons attenantes avec terrain
pour hébergement touristique ou résidence. A proximité de la rivière.
REF: 61968JWI29
FINISTÈRE (29) €132,980 FAI
Scaër. Great little 3 bed house with 2
verandas, in a quiet hamlet. Only minutes
from the city centre.
Scaër. Jolie maison de 3 chambres avec
deux vérandas. Située dans un hameau à
quelques minutes du centre-ville.
REF: 55215MPA29
FINISTÈRE (29) €328,600 FAI
Huelgoat. Excellently renovated 6 bed
house with over an acre of private, secluded grounds.
Would make a superb family
home or B&B.
Huelgoat. Maison rénovée de 6 chambres
avec un grand terrain sans vis-à-vis. Idéale
pour chambres d'hôtes ou usage privé.
REF: 53225PK29
FINISTÈRE (29) €593,000 FAI
Plogonnec. Main house and two interesting gîtes, sympathetically updated
and upgraded in a stylish way by artistic
owners.
Plogonnec. Maison principale avec deux
ravissants gîtes agréablement rénovés par
les propriétaires, un couple d'artistes.
REF: 59152JC29
ILLE-ET-VILAINE (35) €267,500 FAI
Muel. Impressive longère comprising two
character gîtes. Fantastic location. One
gîte has 5 bedrooms, the other has 2.
Muel. Magnifique longère comprenant
2 gîtes de caractère de 5 et 2 chambres.
Emplacement exceptionnel.
REF: 59899CMC35
ILLE-ET-VILAINE (35) €699,600 FAI
St-Jouan-des-Guérets. A rare opportunity
to buy a well cared for character 5 bed
property. Enchanting grounds, stunning
countryside location.
St-Jouan-des-Guérets. Maison de caractère
de 5 chambres avec un ravissant jardin,
située dans un très bel environnement rural.
REF: 57174SSC35
ILLE-ET-VILAINE (35) €251,450 FAI
Lanhélin. Beautiful contemporary style
country 4 bed house. Underfloor heating.
Surrounded by secured pretty gardens
and a well stocked pond.
Lanhélin. Maison contemporaine de 4
chambres en campagne. Chauffage au sol,
beaux jardins clôturés, étang poissonneux.
REF: 53864RHE35
LOIRE-ATLANTIQUE (44) €136,250 FAI
Avessac. Beautiful restored 5 bed,
rose-covered stone cottage set in tranquil
hamlet, just minutes walk from river.
Avessac. Maison de 5 chambres rénovée,
couverte de roses, dans un hameau paisible,
à deux pas de la rivière.
REF: 25134CP44
LOIRE-ATLANTIQUE (44) €1,155,000 FAI
La Baule-Escoublac. Stunning Californian
style 6 bed villa with swimming pool. A 3
minute drive to the beach.
La Baule-Escoublac. Magnifique villa de 6
chambres de style californien à 3 min en
voiture de la plage.
REF: 57925DSC44
info@leggett.frttp://leggett.fr" target="_blank" title="Visit leggett.fr">leggett.fr +33 (0)5 53 60 84 88