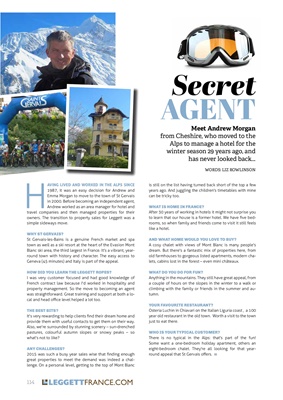 Meet Andrew Morgan
from Cheshire, who moved to the
Alps to manage a hotel for the
winter season 29 years ago, and
has never looked back...
WORDS: LIZ ROWLINSON
Secret
AGENT
H
AVING LIVED AND WORKED IN THE ALPS SINCE
1987, it was an easy decision for Andrew and
Emma Morgan to move to the town of St Gervais
in 2000. Before becoming an independent agent,
Andrew worked as an area manager for hotel and
travel companies and then managed properties for their
owners. The transition to property sales for Leggett was a
simple sideways move.
WHY ST GERVAIS?
St Gervais-les-Bains is a genuine French market and spa
town as well as a ski resort at the heart of the Evasion Mont
Blanc ski area, the third largest in France. It's a vibrant, yearround
town with history and character. The easy access to
Geneva (45 minutes) and Italy is part of the appeal.
HOW DID YOU LEARN THE LEGGETT ROPES?
I was very customer focused and had good knowledge of
French contract law because I'd worked in hospitality and
property management. So the move to becoming an agent
was straightforward. Great training and support at both a local and head office
level helped a lot too.
THE BEST BITS?
It's very rewarding to help clients find their dream home and
provide them with useful contacts to get them on their way.
Also, we're surrounded by stunning scenery - sun-drenched
pastures, colourful autumn slopes or snowy peaks - so
what's not to like?
ANY CHALLENGES?
2015 was such a busy year sales wise that finding enough
great properties to meet the demand was indeed a challenge.
On a personal level, getting to the top of Mont Blanc
is still on the list having turned back short of the top a few
years ago. And juggling the children's timetables with mine
can be tricky too.
WHAT IS HOME IN FRANCE?
After 30 years of working in hotels it might not surprise you
to learn that our house is a former hotel. We have five bedrooms,
so when family and friends come to visit it still feels
like a hotel.
AND WHAT HOME WOULD YOU LOVE TO BUY?
A cosy chalet with views of Mont Blanc is many people's
dream. But there's a fantastic mix of properties here, from
old farmhouses to gorgeous listed apartments, modern chalets, cabins lost in the forest
- even mini châteaux.
WHAT DO YOU DO FOR FUN?
Anything in the mountains. They still have great appeal, from
a couple of hours on the slopes in the winter to a walk or
climbing with the family or friends in the summer and autumn.
YOUR FAVOURITE RESTAURANT?
Osteria Luchin in Chiavari on the Italian Liguria coast , a 100
year old restaurant in the old town. Worth a visit to the town
just to eat there.
WHO IS YOUR TYPICAL CUSTOMER?
There is no typical in the Alps: that's part of the fun!
Some want a one-bedroom holiday apartment, others an
eight-bedroom chalet. They're all looking for that yearround
appeal that St Gervais offers.