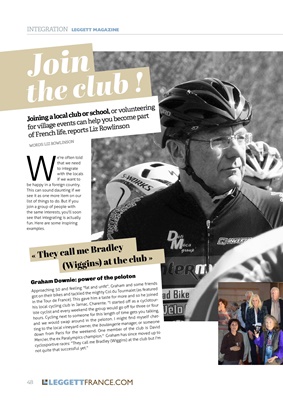 W
e're often told
that we need
to integrate
with the locals
if we want to
be happy in a foreign country.
This can sound daunting if we
see it as one more item on our
list of things to do. But if you
join a group of people with
the same interests, you'll soon
see that integrating is actually
fun. Here are some inspiring
examples.
Joining a local club or school, or volunteering
for village events can help you become part
of French life, reports Liz Rowlinson
Approaching 50 and feeling "fat and unfit", Graham and some friends
got on their bikes and tackled the mighty Col du Tourmalet (as featured
in the Tour de France). This gave him a taste for more and so he joined
his local cycling club in Jarnac, Charente. "I started off as a cyclotouriste cyclist
and every weekend the group would go off for three or four
hours. Cycling next to someone for this length of time gets you talking,
and we would swap around in the peloton. I might find myself chatting to the local vineyard
owner, the boulangerie manager, or someone
down from Paris for the weekend. One member of the club is David
Mercier, the ex Paralympics champion." Graham has since moved up to
cyclosportive races: "They call me Bradley (Wiggins) at the club but I'm
not quite that successful yet."
Graham Downie: power of the peloton
Join
the club !
« They call me Bradley
(Wiggins) at the club »
INTEGRATION LEGGETT MAGAZINE
WORDS: LIZ ROWLINSON