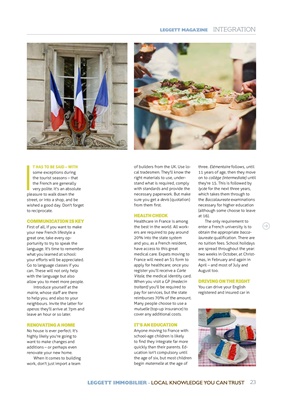 LEGGETT IMMOBILIER - LOCAL KNOWLEDGE YOU CAN TRUST 2323
I
T HAS TO BE SAID - WITH
some exceptions during
the tourist seasons - that
the French are generally
very polite. It's an absolute
pleasure to walk down the
street, or into a shop, and be
wished a good day. Don't forget
to reciprocate.
COMMUNICATION IS KEY
First of all, if you want to make
your new French lifestyle a
great one, take every opportunity to try to speak the
language. It's time to remember
what you learned at school:
your efforts will be appreciated.
Go to language classes if you
can. These will not only help
with the language but also
allow you to meet more people.
Introduce yourself at the
mairie, whose staff are there
to help you, and also to your
neighbours. Invite the latter for
aperos: they'll arrive at 7pm and
leave an hour or so later.
RENOVATING A HOME
No house is ever perfect. It's
highly likely you're going to
want to make changes and
additions - or perhaps even
renovate your new home.
When it comes to building
work, don't just import a team
of builders from the UK. Use local tradesmen.
They'll know the
right materials to use, understand what is required,
comply
with standards and provide the
necessary paperwork. But make
sure you get a devis (quotation)
from them first.
HEALTH CHECK
Healthcare in France is among
the best in the world. All workers
are required to pay around
20% into the state system
and you, as a French resident,
have access to this great
medical care. Expats moving to
France will need an S1 form to
apply for healthcare; once you
register you'll receive a Carte
Vitale, the medical identity card.
When you visit a GP (medecin
traitant) you'll be required to
pay for services, but the state
reimburses 70% of the amount.
Many people choose to use a
mutuelle (top-up insurance) to
cover any additional costs.
IT'S AN EDUCATION
Anyone moving to France with
school-age children is likely
to find they integrate far more
quickly than their parents. Education isn't compulsory
until
the age of six, but most children
begin maternelle at the age of
three. Elémentaire follows, until
11 years of age, then they move
on to collège (intermediate) until
they're 15. This is followed by
lycée for the next three years,
which takes them through to
the Baccalaureate examinations
necessary for higher education
(although some choose to leave
at 16).
The only requirement to
enter a French university is to
obtain the appropriate baccalaureate
qualification. There are
no tuition fees. School holidays
are spread throughout the year:
two weeks in October, at Christmas, in February
and again in
April - and most of July and
August too.
DRIVING ON THE RIGHT
You can drive your English
registered and insured car in
LEGGETT MAGAZINE INTEGRATION