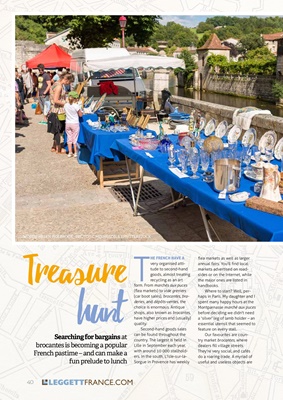 T
HE FRENCH HAVE A
very organised attitude to second-hand
goods, almost treating
recycling as an art
form. From marchés aux puces
(flea markets) to vide greniers
(car boot sales), brocantes, braderies,
and dépôts-ventes, the
choice is enormous. Antique
shops, also known as brocantes,
have higher prices and (usually)
quality.
Second-hand goods sales
can be found throughout the
country. The largest is held in
Lille in September each year,
with around 10 000 stallholders.
In the south, L'Isle-sur-laSorgue
in Provence has weekly
flea markets as well as larger
annual fairs. You'll find local
markets advertised on roadsides or on the Internet, while
the major ones are listed in
handbooks.
Where to start? Well, perhaps in Paris.
My daughter and I
spent many happy hours at the
Montparnasse marché aux puces
before deciding we didn't need
a 'silver' leg of lamb holder - an
essential utensil that seemed to
feature on every stall.
Our favourites are country market
brocantes, where
dealers fill village streets.
They're very social, and cafés
do a roaring trade. A myriad of
useful and useless objects are
Searching for bargains at
brocantes is becoming a popular
French pastime - and can make a
fun prelude to lunch
Treasure
hunt
WORDS: HELEN HOLBROOK PHOTOS: C MOINGEON & SHUTTERSTOCK