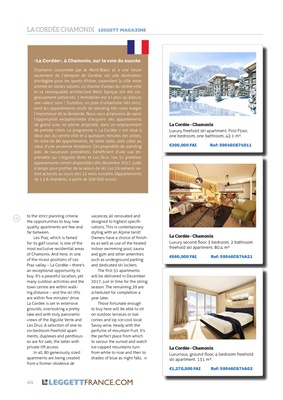 to the strict planning criteria
the opportunities to buy new
quality apartments are few and
far between.
Les Praz, which is famed
for its golf course, is one of the
most exclusive residential areas
of Chamonix. And here, in one
of the nicest positions of Les
Praz valley - La Cordée - there's
an exceptional opportunity to
buy. It's a peaceful location, yet
many outdoor activities and the
town centre are within walking distance
- and the ski lifts
are within five minutes' drive.
La Cordée is set in extensive
grounds, overlooking a pretty
lake and with truly panoramic
views of the Aiguille Verte and
Les Drus. A selection of one-to
six-bedroom freehold apartments, duplexes
and penthouses are
for sale, the latter with
private lift access.
In all, 80 generously sized
apartments are being created
from a former résidence de
The Yates family
La Cordée - Chamonix
Luxury freehold ski apartment. First Floor,
one bedroom, one bathroom, 42.1 m².
€300,000 FAI Ref: 59546CS74D11
La Cordée - Chamonix
Luxury second floor 3 bedroom, 2 bathroom
freehold ski apartment. 80.4 m²
€660,000 FAI Ref: 59546CS74A21
La Cordée - Chamonix
Luxurious, ground floor, 4 bedroom freehold
ski apartment. 131 m².
€1,270,000 FAI Ref: 59546CS74A02
vacances, all renovated and
designed to highest specifications. This is contemporary
styling with an Alpine twist!
Owners have a choice of finishes as well
as use of the heated
indoor swimming pool, sauna
and gym and other amenities
such as underground parking
and dedicated ski lockers.
The first 51 apartments
will be delivered in December
2017, just in time for the skiing
season. The remaining 29 are
scheduled for completion a
year later.
Those fortunate enough
to buy here will be able to sit
on outdoor terraces or balconies
and sip ice-cool local
Savoy wine, heady with the
perfume of mountain fruit. It's
the perfect place from which
to savour the sunset and watch
ice-capped mountains turn
from white to rose and then to
shades of blue as night falls.
« La Cordée », à Chamonix, sur la voie du succès
Chamonix couronnée par le Mont-Blanc et à une heure
seulement de l'aéroport de Genève, est une destination
privilégiée pour les sports d'hiver, cependant la ville reste
animée en toutes saisons. Le charme d'antan du centre-ville
et sa remarquable architecture Belle Epoque ont été soigneusement préservés.
L'immobilier est ici plus qu'ailleurs
une valeur sûre ! Toutefois, un plan d'urbanisme très strict,
rend les appartements neufs de standing très rares malgré
l'importance de la demande. Nous vous proposons de saisir
l'opportunité exceptionnelle d'acquérir des appartements
de grand luxe, en pleine propriété, dans un emplacement
de premier choix. Le programme «  La Cordée  » est situé à
deux pas du centre-ville et à quelques minutes des pistes.
Un total de 80 appartements, de belle taille, sont créés au
cœur d'une ancienne résidence. Ces propriétés de standing
avec de luxueuses prestations, bénéficient d'une vue imprenable
sur L'Aiguille Verte et Les Drus. Les 51 premiers
appartements seront disponibles dès décembre 2017, juste
à temps pour profiter de la saison de ski. Les 29 restants seront
achevés au cours des 12 mois suivants. (Appartements
de 1 à 6 chambres, à partir de 300  000 euros).
LA CORDÉE CHAMONIX LEGGETT MAGAZINE