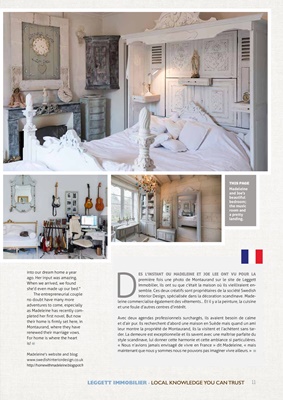 LEGGETT IMMOBILIER - LOCAL KNOWLEDGE YOU CAN TRUST 11
THIS PAGE
Madeleine
and Joe's
beautiful
bedroom;
the music
room and
a pretty
landing.
D
ES L'INSTANT OU MADELEINE ET JOE LEE ONT VU POUR LA
première fois une photo de Montaurand sur le site de Leggett
Immobilier, ils ont su que c'était la maison où ils vieilliraient ensemble.
Ces deux créatifs sont propriétaires de la société Swedish
Interior Design, spécialisée dans la décoration scandinave. Madeleine commercialise
également des vêtements… Et il y a la peinture, la cuisine
et une foule d'autres centres d'intérêt.
Avec deux agendas professionnels surchargés, ils avaient besoin de calme
et d'air pur. Ils recherchent d'abord une maison en Suède mais quand un ami
leur montre la propriété de Montaurand, ils la visitent et l'achètent sans tar-
der. La demeure est exceptionnelle et ils savent avec une maîtrise parfaite du
style scandinave, lui donner cette harmonie et cette ambiance si particulières.
« Nous n'avions jamais envisagé de vivre en France » dit Madeleine, « mais
maintenant que nous y sommes nous ne pouvons pas imaginer vivre ailleurs. »
into our dream home a year
ago. Her input was amazing.
When we arrived, we found
she'd even made up our bed."
The entrepreneurial couple
no doubt have many more
adventures to come, especially
as Madeleine has recently completed her first
novel. But now
their home is firmly set here, in
Montaurand, where they have
renewed their marriage vows.
For home is where the heart
is!
Madeleine's website and blog:
www.swedishinteriordesign.co.uk