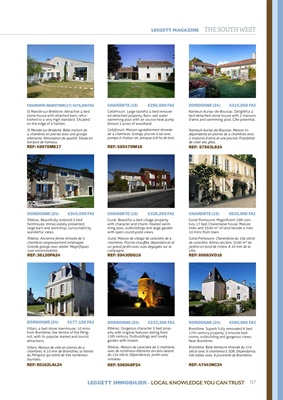 LEGGETT IMMOBILIER - LOCAL KNOWLEDGE YOU CAN TRUST 97
LEGGETT MAGAZINE THE SOUTH WEST
DORDOGNE (24) €233,260 FAI
Ribérac. Gorgeous character 3 bed property with original features
dating from
15th century. Outbuildings and lovely
garden with stream.
Ribérac. Maison de caractère de 3 chambres
avec de nombreux éléments anciens datant
du 15e siècle. Dépendances, jardin avec
ruisseau.
REF: 59804SP24
CHARENTE-MARITIME (17) €278,200 FAI
St Mandé-sur-Brédoire. Attractive 4 bed
stone house with attached barn, refurbished to a very
high standard. Situated
on the edge of a hamlet.
St Mandé-sur-Brédoire. Belle maison de
4 chambres en pierres avec une grange
attenante. Rénovation de qualité. Située en
bordure de hameau.
REF: 49976ME17
CHARENTE (16) €250,000 FAI
Cellefrouin. Large tasteful 4 bed renovated detached property.
Barn, salt water
swimming pool with air source heat pump.
Almost 2 acres of woodland.
Cellefrouin. Maison agréablement rénovée
de 4 chambres. Grange, piscine à sel avec
pompe à chaleur air, presque 0,8 ha de bois.
REF: 58547HM16
DORDOGNE (24) €315,650 FAI
Nanteuil-Auriac-de-Bourzac. Delightful 4
bed detached stone house with 2 maisons
d'amis and swimming pool. Gîte potential.
Nanteuil-Auriac-de-Bourzax. Maison indépendante en pierres de 4 chambres avec
2 maisons d'amis et une piscine. Possibilité
de créer des gîtes.
REF: 57563LS24
DORDOGNE (24) €240,000 FAI
Ribérac. Beautifully restored 3 bed
farmhouse, immaculately presented,
large barn and workshop, surrounded by
wonderful views.
Ribérac. Ancienne ferme rénovée de 3
chambres soigneusement aménagée.
Grande grange avec atelier. Magnifiques
vues environnantes.
REF: 36120PA24
CHARENTE (16) €339,200 FAI
Gurat. Beautiful 4 bed village property
with character and charm. Heated swimming pool, outbuildings and large
garden
with open countryside views.
Gurat. Maison de village de caractère de 4
chambres. Piscine chauffée, dépendances et
un grand jardin avec vues dégagées sur la
campagne.
REF: 59430DG16
DORDOGNE (24) €380,000 FAI
Brantôme. Superb fully renovated 6 bed
17th century property. 5 ensuite bedrooms,
outbuilding and gorgeous views.
Near Brantôme.
Brantôme. Belle demeure rénovée du 17e
siècle avec 6 chambres/5 SDB. Dépendance,
très belles vues. A proximité de Brantôme.
REF: 47443NC24
CHARENTE (16) €625,000 FAI
Gond-Pontouvre. Magnificent 19th century 17 bed Charentaise
house. Mature
trees and 3500 m² of land beside a river.
10 mins from town.
Gond-Pontouvre. Charentaise du 19e siècle
de caractère. Arbres anciens. 3500 m² de
jardins en bord de rivière. A 10 min de la
ville.
REF: 60863VD16
DORDOGNE (24) €177,120 FAI
Villars. 4 bed stone townhouse. 10 mins
from Brantôme, the Venice of the Périgord,
with its popular market and tourist
attractions.
Villars. Maison de ville en pierres de 4
chambres. A 10 min de Brantôme, la Venise
du Périgord, qui attire de très nombreux
touristes.
REF: 60162LAL24