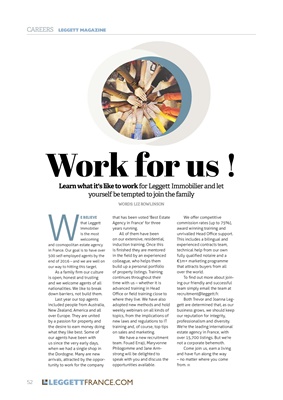 WORDS: LIZ ROWLINSON
that has been voted 'Best Estate
Agency in France' for three
years running.
All of them have been
on our extensive, residential,
induction training. Once this
is finished they are mentored
in the field by an experienced
colleague, who helps them
build up a personal portfolio
of property listings. Training
continues throughout their
time with us - whether it is
advanced training in Head
Office or field training close to
where they live. We have also
adopted new methods and hold
weekly webinars on all kinds of
topics, from the implications of
new laws and regulations to IT
training and, of course, top tips
on sales and marketing.
We have a new recruitment
team. Fouad Erraji, Maryvonne
Philogomme and Jane Armstrong
will be delighted to
speak with you and discuss the
opportunities available.
Learn what it's like to work for Leggett Immobilier and let
yourself be tempted to join the family
CAREERS LEGGETT MAGAZINE
Work for us !
W
E BELIEVE
that Leggett
Immobilier
is the most
welcoming
and cosmopolitan estate agency
in France. Our goal is to have over
500 self-employed agents by the
end of 2016 - and we are well on
our way to hitting this target.
As a family firm our culture
is open, honest and trusting
and we welcome agents of all
nationalities. We like to break
down barriers, not build them.
Last year our top agents
included people from Australia,
New Zealand, America and all
over Europe. They are united
by a passion for property and
the desire to earn money doing
what they like best. Some of
our agents have been with
us since the very early days,
when we had a single shop in
the Dordogne. Many are new
arrivals, attracted by the opportunity to work
for the company
We offer competitive
commission rates (up to 75%),
award winning training and
unrivalled Head Office support.
This includes a bilingual and
experienced contracts team,
technical help from our own
fully qualified notaire and a
€1m+ marketing programme
that attracts buyers from all
over the world.
To find out morecruitment@leggett.frriendly and successful
team simply email the team at
recruitment@leggett.fr.
Both Trevor and Joanna Leggett
are determined that, as our
business grows, we should keep
our reputation for integrity,
professionalism and diversity.
We're the leading international
estate agency in France, with
over 15,700 listings. But we're
not a corporate behemoth.
Come join us, earn a living
and have fun along the way
- no matter where you come
from.