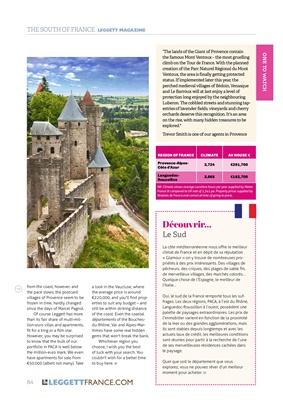 Découvrir...
Le Sud
from the coast, however, and
the pace slows; the postcard
villages of Provence seem to be
frozen in time, hardly changed
since the days of Marcel Pagnol.
Of course Leggett has more
than its fair share of multi-million-euro
villas and apartments,
fit for a king or a film star.
However, you may be surprised
to know that the bulk of our
portfolio in PACA is well below
the million-euro mark. We even
have apartments for sale from
€50,000 (albeit not many). Take
a look in the Vaucluse, where
the average price is around
€220,000, and you'll find properties to suit any budget
- and
still be within striking distance
of the coast. Even the coastal
départements of the Bouchesdu-Rhône,
Var and Alpes-Maritimes have
some real hidden
gems that won't break the bank.
Whichever region you
choose, I wish you the best
of luck with your search. You
couldn't wish for a better time
to buy here.
La côte méditerranéenne nous offre le meilleur
climat de France et en dépit de sa réputation
«  Glamour  » on y trouve de nombreuses propriétés à des prix intéressants.
Des villages de
pêcheurs, des criques, des plages de sable fin,
de merveilleux villages, des marchés colorés…
Quelque chose de l'Espagne, le meilleur de
l'Italie…
Oui, le sud de la France remporte tous les suffrages.
Les deux régions, PACA, à l'est du Rhône,
Languedoc-Roussillon à l'ouest, possèdent une
palette de paysages extraordinaires. Les prix de
l'immobilier varient en fonction de la proximité
de la mer ou des grandes agglomérations, mais
ils sont stables depuis longtemps et avec les
actuels taux de crédit, les meilleures conditions
sont réunies pour partir à la recherche de l'une
de ses merveilleuses résidences cachées dans
le paysage.
Quel que soit le département que vous
explorez, vous ne pouvez rêver d'un meilleur
moment pour acheter.
NB : Climate shows average sunshine hours per year supplied by Meteo
France & compared to UK rate of 1,341 pa. Property prices supplied by
Notaires de France and correct at time of going to press.
REGION OF FRANCE
CLIMATE
AV HOUSE €
Provence-AlpesCôte d'Azur
2,724 €291,700
LanguedocRoussillon
2,668 €182,700
"The lands of the Giant of Provence contain
the famous Mont Ventoux - the most gruelling
climb on the Tour de France. With the planned
creation of the Parc Naturel Régional du Mont
Ventoux, the area is finally getting protected
status. If implemented later this year, the
perched medieval villages of Bédoin, Venasque
and Le Barroux will at last enjoy a level of
protection long enjoyed by the neighbouring
Luberon. The cobbled streets and stunning tapestries
of lavender fields, vineyards and cherry
orchards deserve this recognition. It's an area
on the rise, with many hidden treasures to be
explored."
Trevor Smith is one of our agents in Provence ONE TO WATCH
THE SOUTH OF FRANCE LEGGETT MAGAZINE