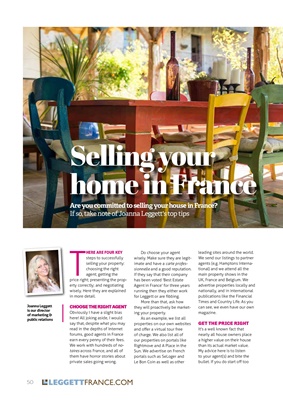 Selling your
home in France
Are you committed to selling your house in France?
If so, take note of Joanna Leggett's top tips
Do choose your agent
wisely. Make sure they are legitimate and have
a carte professionnelle
and a good reputation.
If they say that their company
has been voted 'Best Estate
Agent in France' for three years
running then they either work
for Leggett or are fibbing.
More than that, ask how
they will proactively be marketing your
property.
As an example, we list all
properties on our own websites
and offer a virtual tour free
of charge. We also list all of
our properties on portals like
Rightmove and A Place in the
Sun. We advertise on French
portals such as SeLoger and
Le Bon Coin as well as other
T
HERE ARE FOUR KEY
steps to successfully
selling your property:
choosing the right
agent; getting the
price right; presenting the property correctly;
and negotiating
wisely. Here they are explained
in more detail.
CHOOSE THE RIGHT AGENT
Obviously I have a slight bias
here! All joking aside, I would
say that, despite what you may
read in the depths of Internet
forums, good agents in France
earn every penny of their fees.
We work with hundreds of notaires
across France, and all of
them have horror stories about
private sales going wrong.
leading sites around the world.
We send our listings to partner
agents (e.g. Hamptons International) and we
attend all the
main property shows in the
UK, France and Belgium. We
advertise properties locally and
nationally, and in international
publications like the Financial
Times and Country Life. As you
can see, we even have our own
magazine.
GET THE PRICE RIGHT
It's a well known fact that
nearly all house owners place
a higher value on their house
than its actual market value.
My advice here is to listen
to your agent(s) and bite the
bullet. If you do start off too
Joanna Leggett
is our director
of marketing &
public relations