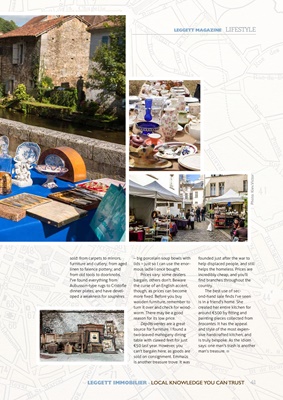 sold: from carpets to mirrors,
furniture and cutlery; from aged
linen to faience pottery; and
from old tools to doorknobs.
I've found everything from
Aubusson-type rugs to Cristofle
dinner plates, and have developed a weakness
for soupières
- big porcelain soup bowls with
lids - just so I can use the enormous ladle I once
bought.
Prices vary: some dealers
bargain, others don't. Beware
the curse of an English accent,
though, as prices can become
more fixed. Before you buy
wooden furniture, remember to
turn it over and check for woodworm.
There may be a good
reason for its low price.
Dépôts-ventes are a great
source for furniture. I found a
two-leaved mahogany dining
table with clawed feet for just
€50 last year. However, you
can't bargain here, as goods are
sold on consignment. Emmaüs
is another treasure trove. It was
founded just after the war to
help displaced people, and still
helps the homeless. Prices are
incredibly cheap, and you'll
find branches throughout the
country.
The best use of second-hand sale finds I've
seen
is in a friend's home. She
created her entire kitchen for
around €500 by fitting and
painting pieces collected from
brocantes. It has the appeal
and style of the most expensive
handcrafted kitchen, and
is truly bespoke. As the idiom
says: one man's trash is another
man's treasure.
LEGGETT MAGAZINE LIFESTYLE
Photo: kiev.victor
LEGGETT IMMOBILIER - LOCAL KNOWLEDGE YOU CAN TRUST 41