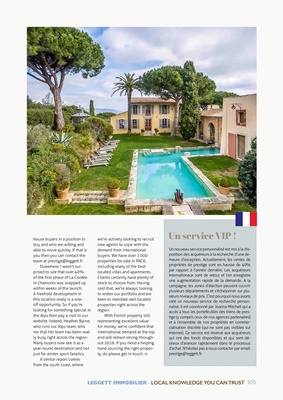 Un nouveau service personnalisé est mis à la disposition des
acquéreurs à la recherche d'une demeure
d'exception. Actuellement, les ventes de
propriétés de prestige sont en hausse de 40%
par rapport à l'année dernière. Les acquéreurs
internationaux sont de retour et l'on enregistre
une augmentation rapide de la demande. A la
campagne, les zones d'élection peuvent couvrir
plusieurs départements et s'échelonner sur plusieurs
niveaux de prix. C'est pourquoi nous avons
créé un nouveau service de recherche personnalisé.
Il est coordonné par Joanna Mitchell qui a
accès à tous les portefeuilles des biens de prestige
(y compris ceux de nos agences partenaires)
et à l'ensemble de nos propriétés en commercialisation discrète
(qui ne sont pas visibles sur
internet). Ce service est réservé aux acquéreurs
qui ont des fonds disponibles et qui sont désireux
d'avancer rapidement dans le processus
d'achat. N'hésitez pas à nous contacter par email :
prestige@leggett.frttp://leggett.fr" target="_blank" title="Visit leggett.fr">leggett.fr.
house buyers in a position to
buy and who are willing and
able to mprestige@leggett.frt is
you then you can contact the
team at prestige@leggett.fr
Elsewhere, I wasn't surprised to see that over
40%
of the first phase of La Cordée
in Chamonix was snapped up
within weeks of the launch.
A freehold development in
this location really is a oneoff
opportunity. So if you're
looking for something special in
the Alps then pay a visit to our
website. Indeed, Heather Byrne,
who runs our Alps team, tells
me that her team has been really busy right across
the region.
Many buyers now see it as a
year-round destination and not
just for winter sport fanatics.
A similar report comes
from the south coast, where
we're actively looking to recruit
new agents to cope with the
demand from international
buyers. We have over 1 000
properties for sale in PACA,
including many of the best
located villas and apartments.
Clients certainly have plenty of
stock to choose from. Having
said that, we're always looking
to widen our portfolio and are
keen to mandate well located
properties right across the
region.
With French property still
representing excellent value
for money, we're confident that
international demand at the top
end will remain strong throughout 2016. If you
need a helping
hand sourcing the right property,
do please get in touch.
105
LEGGETT IMMOBILIER - LOCAL KNOWLEDGE YOU CAN TRUST
Un service VIP !