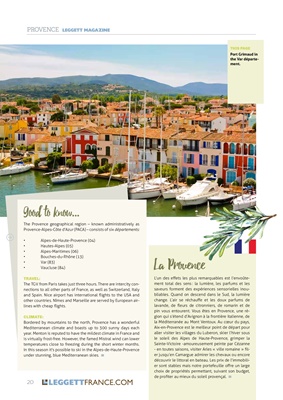 PROVENCE LEGGETT MAGAZINE
L'un des effets les plus remarquables est l'envoûtement total
des sens : la lumière, les parfums et les
saveurs forment des expériences sensorielles inoubliables. Quand on descend
dans le Sud, la lumière
change. L'air se réchauffe et les doux parfums de
lavande, de fleurs de citronniers, de romarin et de
pin vous entourent. Vous êtes en Provence, une région qui
s'étend d'Avignon à la frontière italienne, de
la Méditerranée au Mont Ventoux. Au cœur du pays,
Aix-en-Provence est le meilleur point de départ pour
aller visiter les villages du Luberon, skier l'hiver sous
le soleil des Alpes de Haute-Provence, grimper la
Sainte-Victoire -amoureusement peinte par Cézanne
- en toutes saisons, visiter Arles «  ville romaine  » filer jusqu'en Camargue
admirer les chevaux ou encore
découvrir le littoral en bateau. Les prix de l'immobilier sont
stables mais notre portefeuille offre un large
choix de propriétés permettant, suivant son budget,
de profiter au mieux du soleil provençal.
La Provence
The Provence geographical region - known administratively as
Provence-Alpes-Côte d'Azur (PACA) - consists of six départements:
• Alpes-de-Haute-Provence (04)
• Hautes-Alpes (05)
• Alpes-Maritimes (06)
• Bouches-du-Rhône (13)
• Var (83)
• Vaucluse (84)
TRAVEL:
The TGV from Paris takes just three hours. There are intercity connections to
all other parts of France, as well as Switzerland, Italy
and Spain. Nice airport has international flights to the USA and
other countries. Nîmes and Marseille are served by European airlines with cheap flights.
CLIMATE:
Bordered by mountains to the north, Provence has a wonderful
Mediterranean climate and boasts up to 300 sunny days each
year. Menton is reputed to have the mildest climate in France and
is virtually frost-free. However, the famed Mistral wind can lower
temperatures close to freezing during the short winter months.
In this season it's possible to ski in the Alpes-de-Haute-Provence
under stunning, blue Mediterranean skies.
Good to know...
THIS PAGE
Port Grimaud in
the Var département.