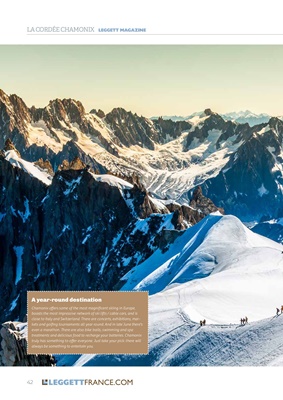 A year-round destination
Chamonix offers some of the most magnificent skiing in Europe,
boasts the most impressive network of ski lifts / cable cars, and is
close to Italy and Switzerland. There are concerts, exhibitions, markets and golfing tournaments all
year round. And in late June there's
even a marathon. There are also bike trails, swimming and spa
treatments and delicious food to recharge your batteries. Chamonix
truly has something to offer everyone. Just take your pick: there will
always be something to entertain you.
LA CORDÉE CHAMONIX LEGGETT MAGAZINE