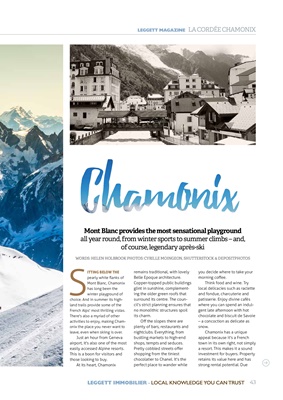 43
S
ITTING BELOW THE
pearly white flanks of
Mont Blanc, Chamonix
has long been the
winter playground of
choice. And in summer its highland trails
provide some of the
French Alps' most thrilling vistas.
There's also a myriad of other
activities to enjoy, making Chamonix the place
you never want to
leave, even when skiing is over.
Just an hour from Geneva
airport, it's also one of the most
easily accessed Alpine resorts.
This is a boon for visitors and
those looking to buy.
At its heart, Chamonix
remains traditional, with lovely
Belle Epoque architecture.
Copper-topped public buildings
glint in sunshine, complementing the older green
roofs that
surround its centre. The council's strict planning ensures
that
no monolithic structures spoil
its charm.
Off the slopes there are
plenty of bars, restaurants and
nightclubs. Everything, from
bustling markets to high-end
shops, tempts and seduces.
Pretty cobbled streets offer
shopping from the tiniest
chocolatier to Chanel. It's the
perfect place to wander while
WORDS: HELEN HOLBROOK PHOTOS: CYRILLE MOINGEON, SHUTTERSTOCK & DEPOSITPHOTOS
Mont Blanc provides the most sensational playground
all year round, from winter sports to summer climbs - and,
of course, legendary après-ski
LEGGETT IMMOBILIER - LOCAL KNOWLEDGE YOU CAN TRUST
you decide where to take your
morning coffee.
Think food and wine. Try
local delicacies such as raclette
and fondue, charcuterie and
patisserie. Enjoy divine cafés
where you can spend an indulgent
late afternoon with hot
chocolate and biscuit de Savoie
- a concoction as delicate as
snow.
Chamonix has a unique
appeal because it's a French
town in its own right, not simply
a resort. This makes it a sound
investment for buyers. Property
retains its value here and has
strong rental potential. Due
LEGGETT MAGAZINE LA CORDÉE CHAMONIX