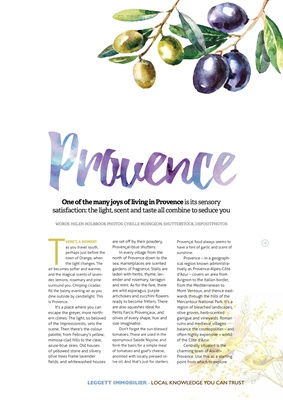 17
T
HERE'S A MOMENT
as you travel south,
perhaps just before the
town of Orange, when
the light changes. The
air becomes softer and warmer,
and the magical scents of lavender,
lemons, rosemary and pine
surround you. Chirping cicadas
fill the balmy evening air as you
dine outside by candlelight. This
is Provence.
It's a place where you can
escape the greyer, more northern climes.
The light, so beloved
of the Impressionists, sets the
scene. Then there's the colour
palette, from February's yellow,
mimosa-clad hills to the clear,
azure-blue skies. Old houses
of yellowed stone and silvery
olive trees frame lavender
fields; and whitewashed houses
are set off by their powdery,
Provençal-blue shutters.
In every village from the
north of Provence down to the
sea, marketplaces are scented
gardens of fragrance. Stalls are
laden with herbs, thyme, lavender and rosemary,
tarragon
and mint. As for the fare, there
are wild asparagus, purple
artichokes and zucchini flowers
ready to become fritters. There
are also squashes ideal for
Petits Farcis Provençaux, and
olives of every shape, hue and
size imaginable.
Don't forget the sun-blessed
tomatoes. These are used in the
eponymous Salade Niçoise, and
form the basis for a simple meal
of tomatoes and goat's cheese,
anointed with locally pressed olive
oil. And that's just for starters.
WORDS: HELEN HOLBROOK PHOTOS: CYRILLE MOINGEON, SHUTTERSTOCK, DEPOSITPHOTOS
One of the many joys of living in Provence is its sensory
satisfaction: the light, scent and taste all combine to seduce you
Provençal food always seems to
have a hint of garlic and scent of
sunshine.
Provence - in a geographical region
known administratively
as Provence-Alpes-Côte
d'Azur - covers an area from
Avignon to the Italian border,
from the Mediterranean to
Mont Ventoux, and thence eastwards
through the hills of the
Mercantour National Park. It's a
region of bleached landscapes,
olive groves, herb-scented
garrigue and vineyards. Roman
ruins and medieval villages
balance the cosmopolitan - and
often highly expensive - world
of the Côte d'Azur.
Centrally situated is the
charming town of Aix-enProvence.
Use this as a starting
point from which to explore
LEGGETT IMMOBILIER - LOCAL KNOWLEDGE YOU CAN TRUST