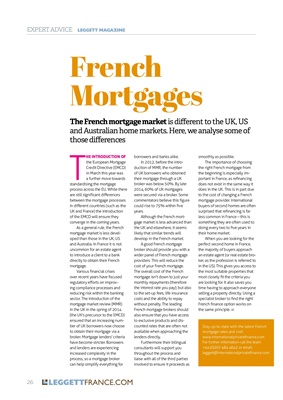 French
Mortgages
The French mortgage market is different to the UK, US
and Australian home markets. Here, we analyse some of
those differences
T
HE INTRODUCTION OF
the European Mortgage
Credit Directive (EMCD)
in March this year was
a further move towards
standardising the mortgage
process across the EU. While there
are still significant differences
between the mortgage processes
in different countries (such as the
UK and France) the introduction
of the EMCD will ensure they
converge in the coming years.
As a general rule, the French
mortgage market is less developed than those in the UK, US
and Australia. In France it is not
uncommon for an estate agent
to introduce a client to a bank
directly to obtain their French
mortgage.
Various financial crises
over recent years have focused
regulatory efforts on improving compliance
processes and
reducing risk within the banking
sector. The introduction of the
mortgage market review (MMR)
in the UK in the spring of 2014
(the UK's precursor to the EMCD)
ensured that an increasing number of
UK borrowers now choose
to obtain their mortgage via a
broker. Mortgage lenders' criteria
have become stricter. Borrowers
and lenders are experiencing
increased complexity in the
process, so a mortgage broker
can help simplify everything for
borrowers and banks alike.
In 2012, before the introduction of
MMR, the number
of UK borrowers who obtained
their mortgage through a UK
broker was below 50%. By late
2014, 60% of UK mortgages
were secured via a broker. Some
commentators believe this figure
could rise to 75% within five
years.
Although the French mortgage
market is less advanced than
the UK and elsewhere, it seems
likely that similar trends will
develop in the French market.
A good French mortgage
broker should provide you with a
wider panel of French mortgage
providers. This will reduce the
cost of your French mortgage.
The overall cost of the French
mortgage isn't down to just your
monthly repayments (therefore
the interest rate you pay); but also
to the set-up fees, life insurance
costs and the ability to repay
without penalty. The leading
French mortgage brokers should
also ensure that you have access
to exclusive products and discounted
rates that are often not
available when approaching the
lenders directly.
Furthermore their bilingual
consultants will support you
throughout the process and
liaise with all of the third parties
involved to ensure it proceeds as
smoothly as possible.
The importance of choosing
the right French mortgage from
the beginning is especially important in France,
as refinancing
does not exist in the same way it
does in the UK. This is in part due
to the cost of changing a French
mortgage provider. International
buyers of second homes are often
surprised that refinancing is far
less common in France - this is
something they are often used to
doing every two to five years in
their home market.
When you are looking for the
perfect second home in France,
the majority of buyers approach
an estate agent (or real estate broker,
as the profession is referred to
in the US). This gives you access to
the most suitable properties that
most closely fit the criteria you
are looking for. It also saves you
time having to approach everyone
selling a property directly. Using a
specialist broker to find the right
French finance option works on
the same principle.
Stay up-to-date with the latest French
mortgage rates and visit:
leggett@internationalprivatefinance.com"Visit www.internationalprivatefinance.com">www.internationalprivatefinance.com
For further information call the team:
+44 (0)207 484 4642 or email:
leggett@internationalprivatefinance.com
EXPERT ADVICE LEGGETT MAGAZINE