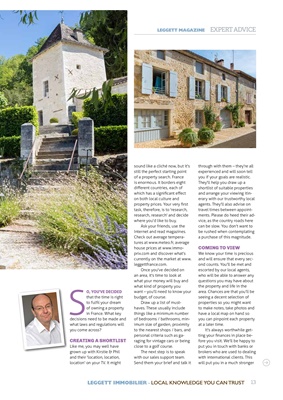 LEGGETT IMMOBILIER - LOCAL KNOWLEDGE YOU CAN TRUST 13
S
O, YOU'VE DECIDED
that the time is right
to fulfil your dream
of owning a property
in France. What key
decisions need to be made and
what laws and regulations will
you come across?
CREATING A SHORTLIST
Like me, you may well have
grown up with Kirstie & Phil
and their 'location, location,
location' on your TV. It might
sound like a cliché now, but it's
still the perfect starting point
of a property search. France
is enormous. It borders eight
different countries, each of
which has a significant effect
on both local culture and
property prices. Your very first
task, therefore, is to 'research,
research, research' and decide
where you'd like to buy.
Ask your friends, use the
Internet and read magazines.
Check out average temperatures
at www.meteo.fr, average
house prices at www.immoprix.com
and discover what's
currently on the market at www.
Once you've decided on
an area, it's time to look at
what your money will buy and
what kind of property you
want - you'll need to know your
budget, of course.
Draw up a list of musthaves.
These usually include
things like a minimum number
of bedrooms / bathrooms, minimum size
of garden, proximity
to the nearest shops / bars, and
personal criteria such as garaging
for vintage cars or being
close to a golf course.
The next step is to speak
with our sales support team.
Send them your brief and talk it
through with them - they're all
experienced and will soon tell
you if your goals are realistic.
They'll help you draw up a
shortlist of suitable properties
and arrange your viewing itinerary
with our trustworthy local
agents. They'll also advise on
travel times between appointments. Please do heed their advice,
as the country roads here
can be slow. You don't want to
be rushed when contemplating
a purchase of this magnitude.
COMING TO VIEW
We know your time is precious
and will ensure that every second counts.
You'll be met and
escorted by our local agents,
who will be able to answer any
questions you may have about
the property and life in the
area. Chances are that you'll be
seeing a decent selection of
properties so you might want
to make notes, take photos and
have a local map on hand so
you can pinpoint each property
at a later time.
It's always worthwhile getting your
finances in place before
you visit. We'll be happy to
put you in touch with banks or
brokers who are used to dealing
with international clients. This
will put you in a much stronger
LEGGETT MAGAZINE EXPERT ADVICE