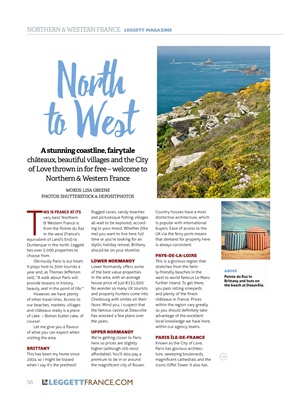 Rugged coves, sandy beaches
and picturesque fishing villages
all wait to be explored, according to your
mood. Whether (like
me) you want to live here full
time or you're looking for an
idyllic holiday retreat, Brittany
should be on your shortlist.
LOWER NORMANDY
Lower Normandy offers some
of the best value properties
in the area, with an average
house price of just €131,500.
No wonder so many UK tourists
and property hunters come into
Cherbourg with smiles on their
faces. Mind you, I suspect that
the famous casino at Deauville
has wrecked a few plans over
the years.
UPPER NORMANDY
We're getting closer to Paris
here so prices are slightly
higher (although still most
affordable). You'll also pay a
premium to be in or around
the magnificent city of Rouen.
T
HIS IS FRANCE AT ITS
very best: Northern
& Western France is
from the Pointe du Raz
in the west (France's
equivalent of Land's End) to
Dunkerque in the north. Leggett
has over 3 000 properties to
choose from.
Obviously Paris is our heart.
It plays host to 30m tourists a
year and, as Thomas Jefferson
said, "A walk about Paris will
provide lessons in history,
beauty, and in the point of life."
However, we have plenty
of other travel links. Access to
our beaches, markets, villages
and châteaux really is a piece
of cake - Breton butter cake, of
course!
Let me give you a flavour
of what you can expect when
visiting the area.
BRITTANY
This has been my home since
2004 so I might be biased
when I say it's the prettiest!
North
to WestA stunning coastline, fairytale
châteaux, beautiful villages and the City
of Love thrown in for free - welcome to
Northern & Western France
WORDS: LISA GREENE
PHOTOS: SHUTTERSTOCK & DEPOSITPHOTOS
Country houses have a most
distinctive architecture, which
is popular with international
buyers. Ease of access to the
UK via the ferry ports means
that demand for property here
is always consistent.
PAYS-DE-LA-LOIRE
This is a glorious region that
stretches from the family-friendly beaches in the
west to world famous Le Mans
further inland. To get there,
you pass rolling vineyards
and plenty of the finest
châteaux in France. Prices
within the region vary greatly
so you should definitely take
advantage of the excellent
local knowledge we have here,
within our agency teams.
PARIS ÎLE-DE-FRANCE
Known as the City of Love,
Paris has glorious architecture,
sweeping boulevards,
magnificent cathedrals and the
iconic Eiffel Tower. It also has
ABOVE
Pointe du Raz in
Brittany and huts on
the beach at Deauville.
NORTHERN & WESTERN FRANCE LEGGETT MAGAZINE