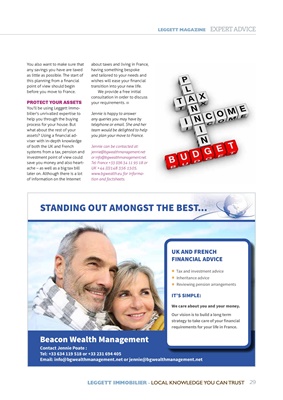 LEGGETT IMMOBILIER - LOCAL KNOWLEDGE YOU CAN TRUST
You also want to make sure that
any savings you have are taxed
as little as possible. The start of
this planning from a financial
point of view should begin
before you move to France.
PROTECT YOUR ASSETS
You'll be using Leggett Immobilier's unrivalled expertise
to
help you through the buying
process for your house. But
what about the rest of your
assets? Using a financial adviser with in-depth knowledge
of both the UK and French
systems from a tax, pension and
investment point of view could
save you money and also heartache - as well
as a big tax bill
later on. Although there is a lot
of information on the Internet
about taxes and living in France,
having something bespoke
and tailored to your needs and
wishes will ease your financial
transition into your new life.
We provide a free initial
consultation in order to discuss
your requirements.
Jennie is happy to answer
any queries you may have by
telephone or email. She and her
team would be delighted to help
you plan your move to France.
Jennie can be contacted at:
jennie@bgwealthmanagement.netthmanagemeinfo@bgwealthmanagement.netle="Visit bgwealthmanagement.net">bgwealthmanagement.net
or info@bgwealthmanagement.net.
Tel: France +33 (0)6 34 11 95 18 or
UK +44 (0)148 356 1505.
www.bgwealth.eu for information and factsheets.
LEGGETT MAGAZINE EXPERT ADVICE
Standing out amongst the best for:
UK and French financial advice including
● Tax and investment advice
● Inheritance advice
STANDING OUT AMONGST THE BEST...
UK AND FRENCH
FINANCIAL ADVICE
• Tax and investment advice
• Inheritance advice
• Reviewing pension arrangements
info@bgwealthmanagement.netcarejennie@bgwealthmanagement.net>
Our vision is to build a long term
strategy to take care of your financial
requirements for your life in France.
Contact Jennie Poate :
Tel: +33 634 119 518 or +33 231 694 405
Email: info@bgwealthmanagement.net or jennie@bgwealthmanagement.net
Beacon Wealth Management
29