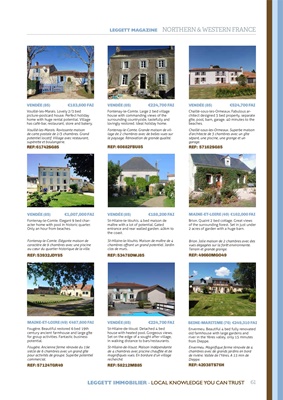 LEGGETT MAGAZINE NORTHERN & WESTERN FRANCE
61
LEGGETT IMMOBILIER - LOCAL KNOWLEDGE YOU CAN TRUST
VENDÉE (85) €1,007,000 FAI
Fontenay-le-Comte. Elegant 9 bed character home with pool in historic quarter.
Only an hour from beaches.
Fontenay-le-Comte. Elégante maison de
caractère de 9 chambres avec une piscine
au cœur du quartier historique de la ville.
REF: 53932JDY85
VENDÉE (85) €188,200 FAI
St-Hilaire-le-Vouhis. 4 bed maison de
maître with a lot of potential. Gated
entrance and rear walled garden. 40km to
the coast.
St-Hilaire-le-Vouhis. Maison de maître de 4
chambres offrant un grand potentiel. Jardin
clos de murs..
REF: 53478DWJ85
MAINE-ET-LOIRE (49) €162,000 FAI
Brion. Quaint 2 bed cottage. Great views
of the surrounding forest. Set in just under
2 acres of garden with a huge barn.
Brion. Jolie maison de 2 chambres avec des
vues dégagées sur la forêt environnante.
Terrain et grande grange.
REF: 49660MGO49
MAINE-ET-LOIRE (49) €487,600 FAI
Fougère. Beautiful restored 6 bed 19th
century ancient farmhouse and large gîte
for group activities. Fantastic business
potential.
Fougère. Ancienne ferme rénovée du 19e
siècle de 6 chambres avec un grand gîte
pour activités de groupe. Superbe potentiel
commercial.
REF: 57124TGR49
VENDÉE (85) €224,700 FAI
St-Hilaire-de-Voust. Detached 4 bed
house with heated pool. Gorgeous views.
Set on the edge of a sought after village,
in walking distance to bars/restaurants.
St-Hilaire-de-Voust. Maison indépendante
de 4 chambres avec piscine chauffée et de
magnifiques vues. En bordure d'un village
recherché.
REF: 58212MB85
SEINE-MARITIME (76) €249,310 FAI
Envermeu. Beautiful 4 bed fully renovated
old farmhouse with large gardens and
river in the Yères valley, only 15 minutes
from Dieppe.
Envermeu. Magnifique ferme rénovée de 4
chambres avec de grands jardins en bord
de rivière. Vallée de l'Yères. A 15 min de
Dieppe.
REF: 42038TS76H
VENDÉE (85) €183,600 FAI
Vouillé-les-Marais. Lovely 2/3 bed
picture-postcard house. Perfect holiday
home with huge rental potential. Village
has café-bar, restaurant, store and bakery.
Vouillé-les-Marais. Ravissante maison
de carte postale de 2/3 chambres. Grand
potentiel locatif. Village avec restaurant,
supérette et boulangerie.
REF: 61742SG85
VENDÉE (85) €224,700 FAI
Fontenay-le-Comte. Large 2 bed village
house with commanding views of the
surrounding countryside, tastefully and
lovingly restored. Ideal holiday home.
Fontenay-le-Comte. Grande maison de village de 2 chambres avec de belles
vues sur
le paysage. Rénovation de grande qualité.
REF: 60882FBU85
VENDÉE (85) €524,700 FAI
Chaillé-sous-les-Ormeaux. Fabulous architect designed 3 bed property,
separate
gîte, pool, barn, garage. 40 minutes to the
beaches.
Chaillé-sous-les-Ormeaux. Superbe maison
d'architecte de 3 chambres avec un gîte
séparé, une piscine, une grange et un
garage.
REF: 57162SG85