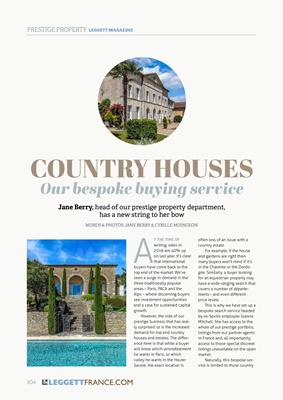 A
T THE TIME OF
writing, sales in
2016 are 40% up
on last year. It's clear
that international
buyers have come back to the
top end of the market. We've
seen a surge in demand in the
three traditionally popular
areas - Paris, PACA and the
Alps - where discerning buyers
see investment opportunities
and a case for sustained capital
growth.
However, the side of our
prestige business that has really surprised us is the increased
demand for top end country
houses and estates. The difference
here is that while a buyer
will know which arrondissement
he wants in Paris, or which
valley he wants in the HauteSavoie,
the exact location is
often less of an issue with a
country estate.
For example, if the house
and gardens are right then
many buyers won't mind if it's
in the Charente or the Dordogne.
Similarly, a buyer looking
for an equestrian property may
have a wide-ranging search that
covers a number of départements -
and even different
price levels.
This is why we have set up a
bespoke search service headed
by ex-Savills employee Joanna
Mitchell. She has access to the
whole of our prestige portfolio,
listings from our partner agents
in France and, all importantly,
access to those special discreet
listings unavailable on the open
market.
Naturally, this bespoke service
is limited to those country
COUNTRY HOUSES
Our bespoke buying service
Jane Berry, head of our prestige property department,
has a new string to her bow
WORDS & PHOTOS: JANE BERRY & CYRILLE MOINGEON
PRESTIGE PROPERTY LEGGETT MAGAZINE