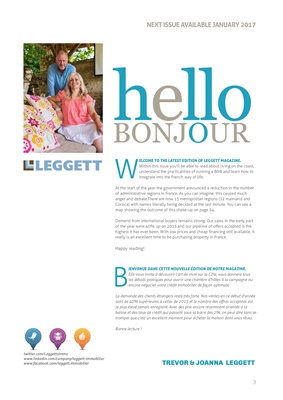 LEGGETTPRESTIGE
3
W
ELCOME TO THE LATEST EDITION OF LEGGETT MAGAZINE.
Within this issue you'll be able to read about living on the coast,
understand the practicalities of running a B&B and learn how to
integrate into the French way of life.
At the start of the year the government announced a reduction in the number
of administrative regions in France.  As you can imagine, this caused much
anger and debate. There are now 13 metropolitan regions (12 mainland and
Corsica) with names literally being decided at the last minute. You can see a
map showing the outcome of this shake-up on page 54.
Demand from international buyers remains strong.  Our sales in the early part
of the year were 40% up on 2015 and our pipeline of offers accepted is the
highest it has ever been.  With low prices and cheap financing still available, it
really is an excellent time to be purchasing property in France.
Happy reading!
B
IENVENUE DANS CETTE NOUVELLE ÉDITION DE NOTRE MAGAZINE.
Elle vous invite à découvrir l'art de vivre sur la Côte, vous donnera tous
les détails pratiques pour ouvrir une chambre d'hôtes à la campagne ou
encore négocier votre crédit immobilier de façon optimale.
La demande des clients étrangers reste très forte. Nos ventes en ce début d'année
sont de 40% supérieures à celles de 2015 et le nombre des offres acceptées est
le plus élevé jamais enregistré. Avec des prix encore récemment orientés à la
baisse et des taux de crédit qui passent sous la barre des 2%, on peut dire sans se
tromper que c'est un excellent moment pour acheter la maison dont vous rêvez.
Bonne lecture !
TREVOR & JOANNA LEGGETT
helloBONJOUR
NEXT ISSUE AVAILABLE JANUARY 2017
www.linkedin.com/company/leggett-immobilier