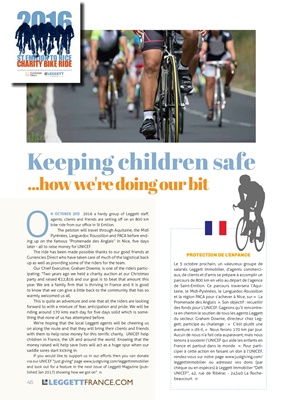 ...how we're doing our bit
O
N OCTOBER 3RD 2016 a hardy group of Leggett staff,
agents, clients and friends are setting off on an 800 km
bike ride from our office in St Emilion.
The peloton will travel through Aquitaine, the Midi
Pyrénées, Languedoc Roussillon and PACA before ending up
on the famous "Promenade des Anglais" in Nice, five days
later - all to raise money for UNICEF.
The ride has been made possible thanks to our good friends at
Currencies Direct who have taken care of much of the logistical back
up as well as providing some of the riders for the team.
Our Chief Executive, Graham Downie, is one of the riders participating: "Two
years ago we held a charity auction at our Christmas
party and raised €12,816 and our goal is to beat that amount this
year. We are a family firm that is thriving in France and it is good
to know that we can give a little back to the community that has so
warmly welcomed us all.
This is quite an adventure and one that all the riders are looking
forward to with a mixture of fear, anticipation and pride. We will be
riding around 170 kms each day for five days solid which is something that none of
us has attempted before.
We're hoping that the local Leggett agents will be cheering us
on along the route and that they will bring their clients and friends
with them to help raise money for this terrific charity. UNICEF help
children in France, the UK and around the world. Knowing that the
money raised will help save lives will act as a huge spur when our
saddle sores start kicking in.
If you would like to support us in our efforts then you can donate
via our UNICEF "just giving" page www.justgiving.com/leggettimmobilier
and look out for a feature in the next issue of Leggett Magazine (published Jan 2017) showing
how we got on".
Le 3 octobre prochain, un valeureux groupe de
salariés Leggett Immobilier, d'agents commerciaux, de
clients et d'amis se prépare à accomplir un
parcours de 800 km en vélo au départ de l'agence
de Saint-Emilion. Ce parcours traversera l'Aqui-
taine, le Midi-Pyrénées, le Languedoc-Roussillon
et la région PACA pour s'achever à Nice, sur « La
Promenade des Anglais ». Son objectif : recueillir
des fonds pour L'UNICEF. Gageons qu'il rencontrera
en chemin le soutien de tous les agents Leggett
du secteur. Graham Downie, directeur chez Leggett,
participe au challenge : « C'est plutôt une
aventure » dit-il, « Nous ferons 170 km par jour.
Aucun de nous n'a fait cela auparavant, mais nous
tenons à soutenir l'UNICEF qui aide les enfants en
France et partout dans le monde ». Pour parti-
ciper à cette action en faisant un don à l'UNICEF,
rendez-vous sur notre page www.justgiving.com/
leggettimmobilier ou adressez vos dons (par
chèque ou en espèces) à Leggett Immobilier "Défi
UNICEF", 42, rue de Ribérac - 24340 La Rochebeaucourt.
PROTECTION DE L'ENFANCE
2016
ST. EMILION TO NICE
CHARITY BIKE RIDE
2016
ST. EMILION TO NICE
CHARITY BIKE RIDE
2016
ST. EMILION TO NICE
CHARITY BIKE RIDE
Keeping children safe