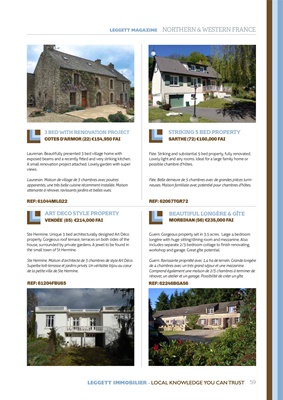 LEGGETT MAGAZINE NORTHERN & WESTERN FRANCE
59
LEGGETT IMMOBILIER - LOCAL KNOWLEDGE YOU CAN TRUST
Flée. Striking and substantial 5 bed property, fully renovated.
Lovely light and airy rooms. Ideal for a large family home or
possible chambre d'hôtes.
Flée. Belle demeure de 5 chambres avec de grandes pièces lumineuses. Maison familiale
avec potentiel pour chambres d'hôtes.
REF: 62067TGR72
STRIKING 5 BED PROPERTY
SARTHE (72) €160,000 FAI
Laurenan. Beautifully presented 3 bed village home with
exposed beams and a recently fitted and very striking kitchen.
A small renovation project attached. Lovely garden with super
views.
Laurenan. Maison de village de 3 chambres avec poutres
apparentes, une très belle cuisine récemment installée. Maison
attenante à rénover, ravissants jardins et belles vues.
REF: 61044MLG22
3 BED WITH RENOVATION PROJECT
COTES D'ARMOR (22) €154,950 FAI
ART DECO STYLE PROPERTY
VENDÉE (85) €214,000 FAI
Ste Hermine. Unique 3 bed architecturally designed Art Déco
property. Gorgeous roof terrace; terraces on both sides of the
house, surrounded by private gardens. A jewel to be found in
the small town of St Hermine.
Ste Hermine. Maison d'architecte de 3 chambres de style Art Déco.
Superbe toit-terrasse et jardins privés. Un véritable bijou au cœur
de la petite ville de Ste Hermine.
REF: 61204FBU85
Guern. Gorgeous property set in 3.5 acres. Large 4 bedroom
longère with huge sitting/dining room and mezzanine. Also
includes separate 2/3 bedroom cottage to finish renovating,
workshop and garage. Great gîte potential.
Guern. Ravissante propriété avec 1,4 ha de terrain. Grande longère
de 4 chambres avec un très grand séjour et une mezzanine.
Comprend également une maison de 2/3 chambres à terminer de
rénover, un atelier et un garage. Possibilité de créer un gîte.
BEAUTIFUL LONGÈRE & GÎTE
MORBIHAN (56) €235,000 FAI
REF: 62246BGA56